Música Ceremonial del Peyote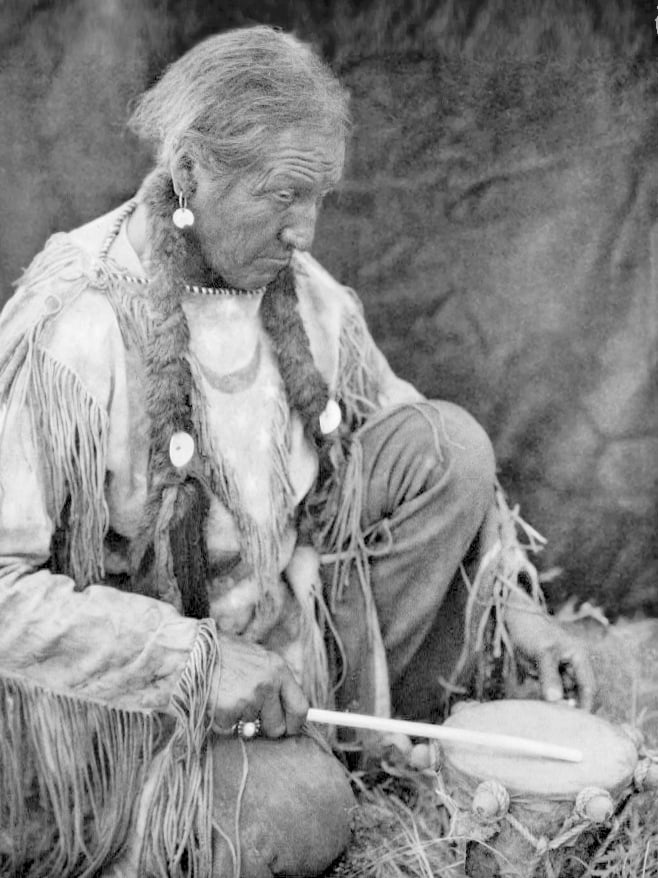 La música es la principal actividad en las ceremonias del peyote y consiste en cantos y tambores. Hay que señalar que a medida que el peyotismo se ha convertido en una actividad entre distintas tribus, las ceremonias y la música son muy similares entre las tradiciones. Como Willard Rodas apunta, las canciones se pasan de una tribu a otra. En particular, existen cuatro canciones - el "Canto de Apertura", la "Canción del Agua de Noche", la "Canción del Amanecer" y la "Canción de Cierre" - que se pueden escuchar en las distintas tribus, entre ellas los Kiowa. Bruno Nettl escribió en el libro "Música en las Culturas Primitivas": "Las canciones del culto al peyote [... ] están relacionadas en estilo musical a las de los Navajos y los Apaches. Esto puede ser debido al hecho de que el estilo se habría extendido [... ] desde el Lipan Apache"
En las ceremonias Kiowa, los instrumentos utilizados son el tambor de agua y una calabaza sonajero, además de la voz. El tambor de agua es capaz de producir un sonido orgánico con un timbre variable a través del movimiento del agua dentro del cuerpo del tambor. El tambor de agua se llena de agua y se ata uno nuevo antes de cada ceremonia.
Los estilos antiguo y nuevo
Hay una distinción básica entre las canciones de peyote de "estilo antiguo" y "estilo nuevo". El estilo antiguo son las canciones tradicionales del peyote que se han interpretado durante décadas y transmitido de generación en generación.
Las canciones de estilo nuevo son composiciones recién escritas que se han desarrollado en los últimos años. A menudo se mejoran de manera electrónica, en particular con reverberación, armonización e instrumentos electrónicos. La Iglesia Nativa Americana enfatiza la creación de nuevas canciones, por lo que se anima a todo el mundo a escribir nuevas canciones. Como consecuencia ahora hay cientos de canciones nuevas del peyote.
 Four Peyote Songs Led by Kevin Yazzie - Four Straight Songs - Cheevers Toppah, Kevin Yazzie
Características Generales de la música del peyote
En su libro "Peyote Music", David McAllester enumera siete características generales de esta música,que las distingue de otras músicas tribales:
1) Las canciones se cantan con una técnica vocal relativamente "suave".
2) Son rápidas;
3) El acompañamiento es en unidades de corcheas al nivel de la voz y que aumentan la sensación de velocidad;
4) Son singularmente coherentes en el uso de únicamente el octavo y cuarto valor de nota en la melodía vocal.
5) Tienen los habituales patrones de frases, pero además muestran una incidencia significativa en los patrones pares, compás restringido y codas excepcionalmente largas;
Los finales muestran un uso acumulativo de la tónica al final de las frases;
7) Al final de la típica canción de peyote, en la misma forma que el cristiano "amén", utilizan "he ne neyo wa"
Además, tradicionalmente, "las canciones del peyote son siempre cantadas por solistas, nunca por un coro".
Peyote Songs Led By Louie Gonnie (Epicenter)
Fuentes
- Omer C. Stewart, Peyote Religion (Norman: University of Oklahoma Press, 1987)
- "The tracks of the little deer" última modificación en 1992, www.peyote.org
Willard Rhodes, "Music of the American Indians" (Washington: The Library of Congress, 1982), 15.
Nettl Bruno, Music in Primitive Cultures, (Cambridge:Harvard University Press, 1956)
- McAllester David P, Peyote Music. (New York: Viking Fund Publications in Anthropology, 1949)