Boveda Humidipak
(

252

)
Despídete de los cambios de humedad en tus recipientes de almacenamiento y en el CVault en particular. El Boveda Humidipak mantiene la humedad relativa del aire a un 62%/58%, añadiendo o eliminando humedad. Los packs de humedad Boveda no llevan ninguna sustancia química; su contenido es completamente natural: sal y agua purificada. No hay que recargarlos.
Este artículo no está disponible en tu país
Lo sentimos, este producto no está disponible actualmente para enviar a tu país. Vuelve a comprobar su disponibilidad en el futuro.
Más
Usar tu Boveda Humidipak no requiere ningún esfuerzo. Aquí te mostramos cómo puedes conservar tu marihuana con la humedad óptima para preservar su sabor, aroma y potencia.
Coloca tu marihuana en el frasco o CVault elegido.
Añade tu Boveda Humidipak al recipiente.
Durante los próximos 6-7 días, el pack de humedad estabiliza la humedad de tu marihuana.
Cuanto más tiempo dejes el Boveda Humidipak en tu frasco o CVault, más refinada se volverá tu marihuana.
Deja el Boveda Humidipak junto con tu marihuana durante alrededor de 14 días y experimenta lo mejor que esta puede ofrecer.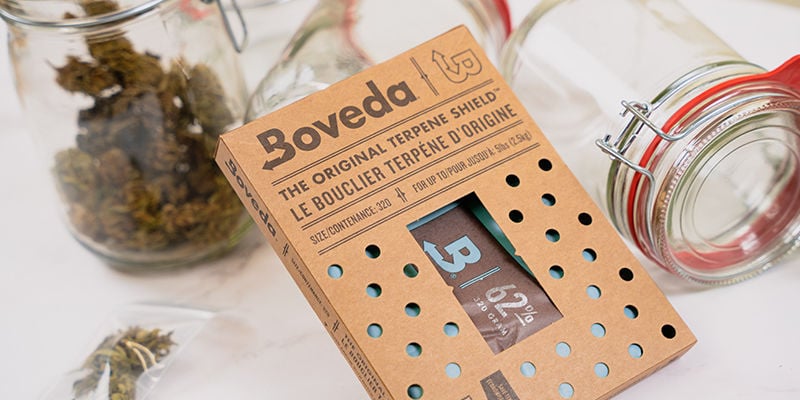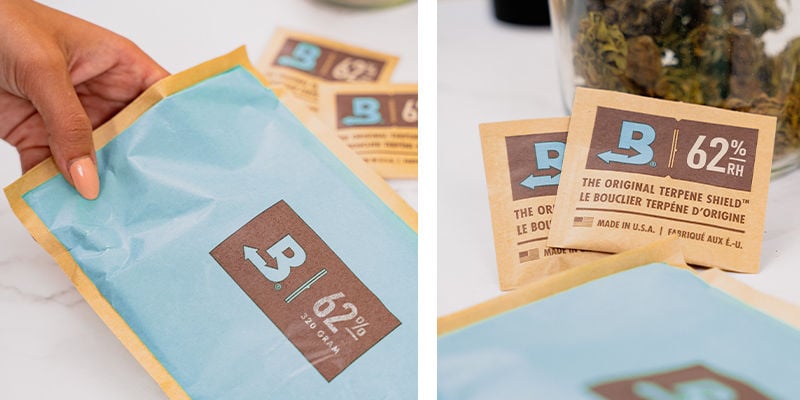 Boveda Humidipak - Ficha Técnica

| | |
| --- | --- |
| Tipo | Control de humedad |
| Tipo | Accesorios |
| Para | Control de humedad |
Más información relacionada con este producto:
Reseñas (252)
View all reviews

03/Dic/2023

Love the 62 %
Been using these packs in various stash jars for a few months now, they seem to work quite well. Wish there was a cheaper option to buy several smaller packs instead of one big one.

25/Nov/2023

Boveda toujours au top
Livraison rapide comme toujours et les sachets en 58% font bien le taf je les préfère aux 62% mais c'est un avis perso Je vous les conseillé mais ne mettez pas votre weed trop humide en curing faites la bien sécher avant de la mettre en pot le curing fera le taf Thanks so Zamni

24/Nov/2023

Buvida Huminipak
Schneller Versand, unkompliziert, vielen Dank. Die Paks funktionieren einwandfrei. Die Kräuter sind schimmelfrei und behalten ihr Aroma. Top!

13/Nov/2023

Svolgono il compito perfettamente
Resistenti inodore e di qualità perfette per una lunga concia

13/Nov/2023

Sichert das Eigentum
Boveda-Packs sind ein Muss....

04/Nov/2023

Boveda
Zuverlässige Lieferung, Produkt funktioniert tadellos, ohne zu lüften.

02/Nov/2023

Perfetto
10/10 58%

30/Oct/2023

Top
Sehr Hilfreiches Produkt zu einem guten Preis

27/Oct/2023

FRKY
Salut a tous les ARDENNAIS ET ARDENNAISES , part rapport a un vulgaire ciseaux , cette outils et assez coupant pour enlever les feuilles , tres solide car depuis 2 bonnes semaines que je m' en serre et aucunes defaillance que ce soit au niveau de la vise qui ne bouge pas d' un poils contrairement a ce que je pensais vue le prix , tres abordable d' ailleur . Donc vue la qualiter de ce ciseaux qui s' adapte tres bien a votre mains es bien j' ai prix la descision dans offrir un, a un bonne AMIS QUI SERA JE PENSE RAVIS DE CE CADEAU !!! VOUS ETE AU TOP ZAMNESIA ET MEME POUR VOS GRAINES JE VOUS CLASSE EN TETE DE LISTE , !!! FRANKY KY ( CHARLEVILLE MEZIERES ) bjr a tous les CAROLOS MACERIENS !!!

27/Oct/2023

Boveda
Works fantastic.

20/Oct/2023

Good
Works fine

19/Oct/2023

Just op
When you youse this produkt you wont get any mold on your buds. I recomment the 67gs so your hole glass is secured.

17/Oct/2023

Gewohnt gute Packs
Gewohnt gute Packs

13/Oct/2023

Parfait
Fonctionne très bien et rapidement pour redonner l'humidité manquante ou la retirer si y en a trop , améliore l'affinage donc le goût ... Parfait !

09/Oct/2023

gutes teil
Ist ein super Teil un macht sein job

02/Oct/2023

Review
Tip top

24/Sept/2023

Werkt
Snel bezorgd, doet wat het moet doen, zeer tevreden van.

18/Sept/2023

The Standard - better than competitors
It is important to know that you DO NOT NEED boveda's, if we controlled our environments and were disciplined with our methods they are unnecessary but when things are not ideal they do seem to be a little life "hack" . If you can get your jar to stabilize at what ever humidity you desire you don't need them but when you can't do that they are such a simple way to create a consistent humidity for a fairly good price. They should work for as long as they stay in their intended state (worth buying small hydrometers to check they are working as they should) and I haven't tried myself but apparently can be restored when damaged in some cases. I have used them for years and they do seem to work but I couldn't tell you I have actually ever needed them but they don't seem to cause issues. While I have no proof, they do seem to give buds a specific Boveda smell, not bad just can make a lot of herb smell similar which is a bit lame. My main wish is that they make a 60% humidity one available, 58% does seem to be a bit to dry for preserving the quality of the bud and 62% gives bud a good consistency for rolling in papers yet it is slightly wet for vaping so I think 60% would be perfect.

01/Sept/2023

Super product
Heel erg tevreden met dit product. Heb de test gedaan 1 met en 1 zonder en is een enorm groot verschil qua smaak, geur en hoe droog die is. Ik zal deze in toekomst altijd gebruiken. Zeker aanrader!!!

30/Ago/2023

Pratique
Redonne l'humidité nécessaire aux plantes trop sèches

28/Ago/2023

Excellent!
62% RH according to the Hygrometer inside the jar. Keep lid closed when curing with these packs.

27/Ago/2023

Zufrieden
Tut was es soll, top.

23/Ago/2023

perfekt
super um dein Erntegut optimal zu lagern :)

18/Ago/2023

Super Beutel
Ich packe in jedes Glas einen von diesen praktischen Beuteln. Alles bleibt wesentlich länger frisch.

17/Ago/2023

boveda works well
does as advertised

02/Ago/2023

Guter Luftbefeuchter zum fermentieren
Sehr schöner Luftbefeuchter und hier bei zam zum besten Preis den man finden kann!

21/Jul/2023

Werkt fantastisch
Doet gewoon wat het moet doen en gaat heel lang mee.

03/Jul/2023

Jamais déçu
Boveda toujours un must pour le curing

26/Junio/2023

Best effect
Optimale consistenz

15/Junio/2023

Produce received as shown
Item received sealed and ready to go!

31/Mayo/2023

Boveda
Die Qualität ist gut. Bei guter Lagerung kann man die Bovedas öfter und vielseitig verwenden!

09/Mayo/2023

Perfekt
Kam gut an, günstiger als Amazon, tat und tut sein Job sehr gut. Bin Happy, bleibe bei denen

19/Abr/2023

Befeuchtung
Sehr gute Erfindung, macht genau das was es soll

13/Abr/2023

Zuverlässig wie immer
Zuverlässig wie immer, top Qualität, schnelle Lieferung. Für mich… bester Shop

09/Abr/2023

Ras
Rien a dire sur sachet boveda dejas utilisé dans le passé sa reste fiable et fait le job bien regardé les tailles dont on a besoin

31/Marzo/2023

utile !
super utile pour mettre dans vos jar , surtout l'été quand il fait trop sec

04/Marzo/2023

fa il suo lavoro
come da titolo assorbe l'unidità, l'ho messa anche nel tabacco e devo dire che funziona.

03/Marzo/2023

Top!
Hervorragende Qualität, schnelle Lieferung keine Probleme! Werde definitiv wieder bestellen

24/Feb/2023

Gut
R sehr gut

23/Feb/2023

Great
Had some old weed that went to dry and after i added this to the jar the terpines increased again.

20/Ene/2023


Absolut nützlich

16/Ene/2023

Vers
Doet wat er van verwacht word

11/Ene/2023

Nickel
Pas encore utilisé mais livraison rapide et emballage nickel.

09/Ene/2023

Wiet smaak minder scherp
Heb deze gebruikt. Bij het drogen van de wiet. Merkte dat toen ik de zakjes er bij deed de wiet minder scherp in de keel werdt en lekkâh om te roken.

05/Ene/2023

Empfehlenswert
Bin sehr zufrieden... Macht was es soll :)

28/Dic/2022

G77
Bij deze ga ik het nu voot de eerste keer gebruiken. Volgens veel goeie reacties hier zou het moeten werken. Schijnt ook goed te zijn om bij je sigaren in houtendoos te kunnen waren. Zamnesia is nummer 1 in snel en discreet met verzenden dikke DUIM voor jullie

10/Dic/2022

Sehr zu empfehlen
Bin begeistert immer konstante Feuchtigkeit

30/Nov/2022

Perfekt
Das Produkt wird für Zigarren sowie für Trockenfrüchte im Küchenbereich benutzt. Sejr gute Qualität.

15/Nov/2022

Altijd doen!
De tijd van curen (pot open, pot dicht en dat een aantal weken. Om de zoveel tijd laten burpen.) is voorbij. De kans op ontdekking (geuroverlast) door buurtratten ook! Gewoon voldoende Boveda in de potten en je hebt er geen omkijken meer naar. Gaat erg lang mee.

08/Nov/2022

Boveda Humidipak
Pefetto.Veramente utili e svolgono il loro lavoro.Ottimo prezzo soprattutto comprando in quantità

06/Nov/2022

Eutectic salts.
An established concept put to good practical use. One wonders just a bit about how they determined the optimal (presumably relative) humidity as ideal. Presumably they function for as long as the sachet is intact.

04/Nov/2022

Works as advertised
Not much else to say about the product. It helps keep the humidity levels stable.

04/Nov/2022

makes your weed taste way better
protects your stash well against changes in moisture, my stash is tastier when placed with a boveda.

08/Oct/2022

Sehr zu empfehlen
Zum Trocknen sowie zum fementieren(aushärten) perfekt

20/Sept/2022

Mokkum
Buenisimas

16/Sept/2022

Sly.
Salut ! Je met 4 stars simplement parce que le produit doit être bon mais que j'ai pas pu tester ! Sur cette commande j'ai la poisse mais il y a toujours mieux ensuite ! Je n'ai pas reçu les bon Humidipak demander. Car l'erreur est humaine, normal ! Donc le support Zamnésia me donne la possibilité de refaire une commande avec les bonnes références prises en charge. Désolé finalement je ne pourrais pas vous décrire ce produit avant de l'avoir testé... A+

24/Ago/2022

Goed product
Werkt zoals het hoort

17/Ago/2022

Good product
does what it says and lasts longer than expected

16/Ago/2022

Boveda
Boveda ist ein gutes Produkt dass die Feuchtigkeit in meinem Vorratsbehälter im Rahmen hällt

28/Jul/2022

Goed product
Per stuk verpakt dus altijd een verse humidipack wanneer nodig

27/Jul/2022

Perfect voor lang bewaren
Hiermee kan je alles langer bewaren ook. De pot waar ik uit rook zit geen, maar in al de potten in de kast wel.

26/Jul/2022

Produit très efficace et indispensable
Ce produit excrément pratique est indispensable pour conserver au mieux vos aromates préférés. Fais très bien le job. Pas trop chère. Je le conseille sans hésitation.

21/Jul/2022

Top!
Doet goed zijn werk en houdt mn stash lekker fresh B)

28/Junio/2022

Great
Does what is has to do nothing more nothing less

19/Junio/2022

Goed product
In elke pot met flowers in zit er een boveda pack.

16/Junio/2022

Toppie
Top product werkt zoals het hoort

09/Junio/2022

Parfait
Parfait pour conserver parfaitement

07/Junio/2022

Sehr geil.
Immer wieder gerne. Ist nur zur empfehlen!!

25/Mayo/2022

Handig product
De zakjes houden zoals beloofd je stash op de juiste vochtigheid. Top product!

23/Mayo/2022

curing
Easy to use, I dont have to check the buds daily and works nice. Waiting to see how it works during the next months

25/Ago/2022

Must have!!
You really need this!!! If they dry out, just put them in some Water ;) Often reusable....

21/Mayo/2022

It's Boveda
Nothing more nothing less

30/Abr/2022

Boveda is perfect!
for everyone that said they steal terps. the reason it's not smelling that extreme anymore is because the terps stay IN the bud and do not evaporate into the air. you can rehydrate them with destilled water so 10/10

23/Abr/2022

BOVEDA CURING
Purchased the 58% and 62% and using in jars. I wish they offered a 50% as I think that would be perfect. Buds in super condition, I'll let a bud sit out of the jar on the day I will smoke it and the bud dries perfectly for consumption

25/Marzo/2022

Vive la Boveda !
Ça évite tellement de petites manipulations pour avoir un résultat souvent aléatoire. En plus ça dure un bon moment. Très pratique.

18/Marzo/2022

Review: Bewaring en Curring
Gebruik de Humidipack nu zo'n 2 jaar. De kleine voor in het ziplock wietzakje, dan blijft het allemaal wat langer vers. De grote na de zomer als het 'droog' is gaat het in de cvault, twee pack in deksel. Die zuigen het laatste overtollig vocht op en/of corrigeren condens vorming door tmp schommeling. Dus geen open dicht gedoe meer in de laatse fase van de curing. En als het te droog zou worden geven de pack weer hun vocht af. Packs laat ik wat indrogen zodat ze weer vocht kunnen opnemen. Kwaliteit is duurzaam. In deksel uitstekend, in ziplock gebruik onderhevig (goed). Opname vocht gaat sneller dan afgifte.

27/Feb/2022

Perfect
Better than 55

22/Feb/2022

Werkt uit stekend!!
Deze zakjes doen hun werk uitstekend. Zeer blij mee.

22/Feb/2022

Top
Spettwcolare

03/Feb/2022

Impeccable
Transforme les fleurs magnifiquement

23/Ene/2022

Curing
Boveda un must pour un curing réussi , sans se prendre la tête, super produits.

20/Ene/2022

Boveda
Excellent

19/Ene/2022

Bäschte für den Homegrow!
Nutze diese Bags nun schon meinen 6 Strain. Sobald das Weed in die Gläser kommt pack ich nen großen Beutel dazu. Dank des Beutels im Glas immer die selbe LFT! Kann ich nur empfehlen.

03/Ene/2022

2.1.22
Sehr gerne wider

27/Dic/2021

Topware
100% super

09/Dic/2021

gut für meine Ernte im Glas
Da ich zu wenig Erfahrung hatte, hatte ich meine Pfanzen zu lange trocknen lassen. als sie im Glas waren, lag die Feuchtigkeit nur bei etwa 28%. Mit den Humidipaks ist sie mittlerweile auf immerhin 42% gestiegen.

07/Dic/2021

Alles ok
Macht was es soll , und das perfekt .

19/Nov/2021

Werkt perfect
Vochtmeter in de potten geeft precies 62% aan

04/Nov/2021

Humidipak
Goedemiddag, weet je , vroeger had ik vaak oude wiet en vond dat zo jammer van al die moeite van het kweken Nu gebruik ik voor het derde jaar al deze zakjes humidipak en ik heb de voorraad net bekeken en ze zijn van vorig jaar nog helemaal goed. Dus een aanwinst in deze wereld. Groet Anna

25/Oct/2021

Consistently great
Been using Boveda for years, their 62% packets are ideal for the purpose of curing your flowers and preserving them indefinitely

22/Oct/2021

Super !
Fonctionne parfaitement pour un bon curing, je recommande !

24/Sept/2021

boveda
Works great with CVault.

16/Sept/2021

TOP TOP TOP
Makkelijker als dit kan curen en bewaren niet worden, na 3 weken in een tightvac met deze pack erbij, komt de ware aard van je rookwaar pas boven (geur/smaak)

08/Sept/2021

I like it
It does what it needs to do

03/Sept/2021

Important
It's a must have

29/Ago/2021

Très efficace
J'utilise déjà ces packs pour mes cigares, rien à redire, humidité relative atteinte au bout de 48 heures et très stable, vivement recommandé.

13/Ago/2021

top !
rien à redire, top produit

06/Ago/2021

Werkt goed
After drying the weed that came of my "sticky beast", I've put everything in airtight glass jars together with the Humidipak. Works like a charm!

16/Jul/2021

Humidipak
Works Good

06/Jul/2021

doet wat het moet
LV blijft rond de 61% . Geur en smaak blijven goed.

30/Junio/2021

très bonne qualité pour le prix
convient parfaitement a des bocaux de taille moyenne et de petite taille. Cependant attention aux controleurs d'humidité pas toujours fiable...

23/Junio/2021

Trop bien.
exellent.

22/Junio/2021

Indispensable
A commander absolument avant toute récolte !

18/Junio/2021

Absolut Top!!!
Spitzenprodukt! Einwandfrei! "super Zamnesia Service! Weiter so!

15/Junio/2021

Super
Indispensables!

04/Junio/2021

Stressfrei
Keine Sorgen mehr wegen Schimmel

25/Mayo/2021

Top product
Doet precies wat het moet doen

18/Mayo/2021

prima
prima product en doet wat het moet doen

13/Mayo/2021

Semplici
Fanno molto bene il loro lavoro

08/Mayo/2021

Un'idea semplice ma efficace
E' bastato inserire un sacchetto in un vaso da 5 litri pieno di infiorescenze un po' rinsecchite per vederle riprendersi giorno dopo giorno e tornare della giusta umidità. Anche l'aroma e la fragranza si sono riavvicinati a quelli post-concia! Nessun segno di muffa e discreta omogeneità nell'umidificazione, nonostante il vaso sia stretto e alto (non era lecito attendersi una omogeneità totale). Insomma, questi sacchetti possono sembrare una stupidaggine, ma invece sono preziosissimi per risolvere problemi odiosi che ogni tanto possono manifestarsi se i fiori vengono conservati troppo a lungo

03/Mayo/2021

PERFETTO
Quello che mi mancava, avevo già provato il prodotto da un altro venditore ma a questo prezzo e qualità solo quì, consigliato!!!

28/Abr/2021

Un must have
Depuis que j'ai découvert boveda, je ne m'en passe plus. C'est l'accessoire indispensable pour réussir votre curing. En plus c'est pas chère, pourquoi s'en passer ??

20/Abr/2021

Top.
Best product to improve your weed.

19/Abr/2021

Mon indispensable
Indispensable pour un bon curing !! Fonctionne très bien a changer lorsqu'il n'y as plus de liquide

11/Abr/2021

Top product
Ik gebruik boveda al geruime tijd en in vind het in een woord 'n top product

09/Abr/2021

Zuverlässiger helfer!
Auch sehr gut für Holzinstrumente wie Gitarren zum aufpeppen des Holzes und nat f all unsere Kräuter, danke zammi!

05/Abr/2021

Terp. Protection
Top product, Doet wat het moet doen.. Vanaf nu een echte MUST voor in mijn opslagpotten! Zou niet meer zonder willen...

24/Marzo/2021

precies goed
zorgt dat t niet uitdroogt, maar voorkomt ook te vochtig worden, dus geen toprot problemen. ik heb genoeg potten met opslag van soorten, kan niet meer zonder dit product.

20/Marzo/2021

Utilissimo
Veramente molto utile e efficace

03/Marzo/2021

AMAZING
I began to use these recently and lemme say... arguably one of the best products for weed conservation.

17/Feb/2021

topper
superproduct ga deze elke keer opnieuw toevoegen

15/Feb/2021

Parfait
Je l utilises depuis 6 mois et le produit restes intact,nickel tres bon produit.

12/Feb/2021

Just what I h'd been looking for
I bought these to try to preserve the freshness of my herbs. I like to have a selection of herbal treats, so I'm not always getting the same buzz. This means that I sometimes have to store small quantities of various strains for long periods. Keeping them fresh has always been an issue, but no more. Since I started using these, I have really noticed the difference. I also don't need to worry about mould developing , or the herb completely drying out. I am a convert and will keep using Boveda Humidipak 62 from now on.

09/Feb/2021

Boveda humiditipak
Het is ongelooflijk, eindelijk kan je je wiet curen zonder gehannes. Iedereen die met wiet bezig is zou dit in huis moeten hebben. Dit topproduct raad raad ik écht iedereen aan

06/Feb/2021

ON THE TOP !
Great discovery !

29/Ene/2021

Super!
Fait le boulot demandé. Au top!

29/Ene/2021

Encantado
Usé varios de estos sobres en cada tarro de cristal en los que puse a curar el cannabis, la verdad es que la hierba se ha mantenido en un estado estupendo durante meses, repetiré compra sin duda.

28/Ene/2021

Keeps your weed fresh for a long time!
Keeps your weed fresh for a long time. I'm very satisfied!

14/Ene/2021

Nickel... de toutes tailles....
I N D I S P E N S A B L E

31/Dic/2020

Pratico e funzionale
Ottimo prodotto per tenere le tue cime preferite alla perfetta condizione di sempre, non diventeranno croccanti e non si rovineranno più

30/Dic/2020

Top
Le migliori sul mercato

27/Dic/2020

Super
Erg tevreden met het resultaat en de snelle werking. Getest met en zonder, en zeer groot verschil.

13/Dic/2020

top
garde une bonne humidité

10/Dic/2020

Ideal
Idéal pour une herbes humide juste ce qu'il faut et idéal pour ceux qui fume en vapo !! Merci zamnesia ! Vous êtes au top !

03/Dic/2020

Perfect
It does perfectly what it is supposed to do. I purchased another batch of Bovedas already

30/Nov/2020

sami56
Pratique et efficace

21/Nov/2020

Medigrower
Great product for keeping your harvest fresh for storage. I don't know what I did before these a must have for curing

19/Nov/2020

62% comme jamais
Je m'en sert pour une cave à "cigare ;-) " est j'ai toujours 62 % d'humidité ça fait 1 mois 1/2 que je m'en sert, je suis actuellement satisfait.

14/Nov/2020

Parfait
Très utile pour garder une grande partie de sa consommation au placard.

11/Nov/2020

Werkt perfect
Deze humidipaks maken het vuren een stuk makkelijker. Perfecte resultaten!

09/Nov/2020

Perfect
Awesome for people who are looking for a guarantee for their herbs to kept fresh for a long time

07/Nov/2020

Cave à weed
Et oui, j'utilise le boveda humidipak 62 avec le conteneur de stockage cvault et cela me donne l'effet d'avoir une cave à weed. Elle est un peu plus humide que dans un bocal mais quand même fumable. C'est le goût qui est vraiment différent, plus riche, plus complexe. C'est génial !!!

28/Oct/2020

Amazing product !
Love it

21/Oct/2020

Klasse Produkt
Ideal für die Vorratshaltung..

21/Oct/2020

Perfect
A must have for all

18/Oct/2020

The essential product for curing stage!
Every serious grower should have a surplus of these, they work better when you use them more than min. amount recommended. MUST HAVE for curing. In case they start feeling rough around the edges eventually, you can refill them with distilled water at your own discretion, take care not to overfill them since that can result in an inaccurate performance of humidipak at 66-67% RH as it happened to me or anything above advertised 62%. Of course this may take a bit of a practice but once you master the refilling of your bovedas you are good to go for some time. Make sure you measure RH with your humidor sensor every time you refill your boveda. (you can't refill them indefinitely though) The essential product for every passionate grower!

15/Oct/2020

Prodotto geniale
Una invenzione di cui non si può fare a meno

14/Oct/2020

Utile
Per i fortunati che hanno molte infiorescenze è un prodotto indispensabile per la corretta conservazione.

08/Oct/2020

Bobeda
Perfecto, muy contento.

05/Oct/2020

Perfect
Werkt perfect

02/Oct/2020

très bon produit
une révélation ! efficace et pas cher

30/Sept/2020

Great
Great for curing the herbs and keeping it at the right RH

21/Sept/2020

Top product
Prima product, works good. Keeps your weed or herbs fresh.

14/Sept/2020

Perfect
Heerlijk alles vers, gewoon in een wekpot. Alles blijft vers en heerlijk ruiken.

07/Sept/2020

Perfect product
It gets the job done nothing to say....

07/Sept/2020

Top boveda
I always use boveda packs

24/Ago/2020

Amazing product
After a year still fresh!

21/Ago/2020

Ideaal
Alles blijft lekker lang supervers!

17/Ago/2020

ESTUPENDO
Buen producto

31/Jul/2020

Dauerbrenner
Einfach super, meine Joints haben noch nie so lange gebrannt.

22/Jul/2020

Best product
Must have!!

22/Jul/2020

Snelle service
2 dagen later toegekomen, discreet en stevig verpakt. Tof dat je hoeveelheidskorting krijgt. Ik bestel hier nog!

10/Jul/2020

Bien
Bon produit

18/Junio/2020

Must have
Vorig jaar voor het eerst gebruikt, zeker een aanrader.

09/Junio/2020

Topper
Ik kweek reeds enkele jaren en dit product is een absolute aanrader wanneer je jouw fantastische oogst langdurig wil bewaren. Mijn amnesia Haze heeft meer dan 1 jaar een perfecte smaak en effect behouden hierdoor. Superproduct! Echte aanrader

09/Junio/2020

Ordered them as a test
I once ordered some humidipaks as a test, but since then I can't live without them. I just ordered a bunch of new ones.

03/Junio/2020

bien
attention a ne pas l'ouvrir en deux comme un sachet de thé (note pour moi meme)

12/Mayo/2020

bien
cool on se sent plus rassuré avec

11/Mayo/2020

Uitstekend product.
Een aanrader voor iedereen die kwalitatief wil curen.

08/Mayo/2020

Buitengewoon goed product!
Met enige scepsis besteld. Dat wel, maar... na ze gebruikt te hebben wil ik echt niet meer anders!!! Ik doe twee à drie kleine zakjes (samen met een mini temp/hygrometertje) in een weckpot van 2 Liter die tot de hals toe vol zit met mijn kostbare oogst. Voorheen zonder deze zakjes altijd gedonder... of de oogst werd te droog... of de oogst was te vochtig... met als gevolg schimmel enz. Om dit te voorkomen betekende dat iedere dag alles controleren en indien nodig veel werk verrichten om het goed te krijgen wat betreft vocht gehalte. Met deze humidipack heb je er, zoals ze beloven, inderdaad geen omkijken meer naar. Precies goed! Het hele jaar door. Ideaal om je oogst mee te "curen" of te bewaren tijdens de weken dat je je oogst wil oproken. Resultaat is een oogst die exact droog genoeg is en toch nog "vochtig" genoeg om niet zomaar in vele kruimels uiteen te vallen. Is je oogst te droog stuurt dit product het vochtgehalte omhoog, is het te nat dan onttrekt het product het nodige vocht aan je oogst. Het vochtgehalte blijft inderdaad precies op de ideale 62%. En na een jaartje "curen" is de oogst heerlijk compact en zoet. Zonder dit product was dat veel moeilijker geweest (lees veel meer werk en hogere risico's dat het fout gaat) en was het mij niet gelukt.

29/Abr/2020

Bon produit
Produit super utile pour conserver ce que l'on veut à un niveau d'humidité fixe. Il fait le job.

20/Abr/2020

good product
Working

25/Marzo/2020

kkgoeie
very good for curing buds that are abit too dry

21/Ene/2020

Good but from 2018
The packs ordered end of 2019 are from 2018 but do what they should.

05/Dic/2019

Topper
Goed geprijsd en snel bezorgd!

15/Nov/2019

Great product
Great product, definitely take notice of someones post up there though ''Just a Tip ! make sure your flowers are dry before adding a pack. it will otherwise ruin the smell of your flowers'' - I ruined a beautiful cola's worth of bud when I first used one.

31/Oct/2019

must have
je merkt het verschil echt! vanaf nu gebruik ik dit altijd. must have voor iedere dhz'er

25/Oct/2019

No words needed!
Must have for your stored weed. Good services all year around, zamnesia, thanks

17/Oct/2019

Boveda
So far .. works excellent

04/Oct/2019

Top product
Everybody should use this to keep they're herbs fresh and tasty! After drying for a month, just put a bag in the curing jar, and you will have no worries... I open the jar 3 times a week to burb for the next 2 months, the boveda humidity bags do the rest...

02/Oct/2019

Gut... aber
Bisher bin ich eigentlich sehr zufrieden. Aber wenn man die Gläser wirklich lange nicht öffnet (3 bis 4 Wochen) wird es doch sehr muffig darin. Hatte ich mir anders vorgestellt. Aber im großen und ganzen sind die Dinger echt super und ich werde sie auch wieder kaufen.

03/Sept/2019

Great product
But it is not 2 way. Only add to properly dry stuff.

02/Sept/2019

Very Good!
Just a Tip ! make sure your flowers are dry before adding a pack. it will otherwise ruin the smell of your flowers

19/Ago/2019

Macht was es soll
Also wenn man sowieso mindest 1 mal die Woche an das Kräuterglas muß ist es ok aber wenn man längere Zeit nicht Lüftet wird es doch etwas muffig. Eine Konkrete Gebrauchsanweisung wäre noch empfehlenswert.

06/Ago/2019

Easy-Cure
Hiya'll...lovin' these Boveda Humidipaks in my curing jars as they take care of one variable (i.e. humidity) whilst I take care of burping and temperatures. Zamesia is bang-on as always with fast European delivery and a fair price.

05/Ago/2019

Made all the difference!
From just curing in glas jars this made all the difference! In just two days the smells coming out went from good to amazing!

24/Junio/2019

Ein muss
Das beste Produkt auf dem Markt! Jeden Cent wert

08/Junio/2019

Love them so far
First time, so far keeps the buds super dense so I love it

17/Mayo/2019

100% Curing
Le top du top , merci de le proposer Zamnesia ;)

09/Mayo/2019

Perfect
Ik heb deze besteld omdat ik er even niet was om de potten op tijd te openen. Echter dit maakt het curing proces zoveel makkelijker. Ik had het eerder moeten doen. Ik heb diverse humidity meters in me potten zitten en het is spot on 62 %. Goed spul !

29/Abr/2019

Sollte/Muss
Für mich unablässig ,wenn man Quali auf Zeit möchte!

24/Abr/2019

interesting product
good for curing

01/Abr/2019

Super
had ik veel eerder moeten kopen en gebruiken !!

29/Marzo/2019

Awesome
This is a must have for the weed fan! It does all the diference. More, it saves your weed! Buy it now, i tell you!

13/Marzo/2019

Boveda
Werkt prima! Supermakkelijk in gebruik!

07/Marzo/2019

boveda
it doesn't work both ways it only keeps it moist but doesn't bring back moist in the dried flowers

20/Dic/2018

I like it very much
Works very well when curing your buds. I highly recommend :)

30/Oct/2018

The best
The best humi system, also recommended for longfiller cigars

25/Oct/2018

Super
Cela fonctionne parfaitement pour conserver au mieux votre matériel !

24/Sept/2018

Boveda Humidipak 62 Werkt zoals je wil.
Boveda Humidipaks zijn makkelijk in gebruik en doen wat ze moeten doen. Ik zou ze je wel aanraden als jij het curen even over moet slaan ivm afwezigheid. Je kan ze gerust in de pot laten zonder bijwerkingen.

10/Sept/2018

excellent
excellent

03/Sept/2018

boveda brilliance
they work wonders

10/Ago/2018

Great!
Boveda Humidipaks work as advertised!

27/Ene/2018

Must Have
Ein muss für die Aushärtung spezieller Kräuter.. Keine Schimmel gefahr mehr. Aber auch kein Austrocknen. Trägt viel zur Entwicklung der leckersten Aromen bei!!

24/Dic/2017

Nice
Its work

13/Dic/2017

Bis jetzt alles bestens
Habe 4x8g in 2Liter Glass getan mit vor getrocknetem Chili und bis jetzt reifen die schön nach ohne zu Schimmeln. Lüfte aber ein mal Täglich für paar Minuten. Keine Ahnung ob das nötig ist. Das Produkte ist Empfehlenswert.

18/Sept/2017

Gewoon goed!
Na het drogen van men toppen heb ik ze samen met wat boveda packs in men weckpot gedaan en deze zijn nu al een paar weken mooi aan het curen. Natuurlijk was ik in het begin voorzichtig maar nu vertrouw ik het helemaal. Een aanrader dus!

28/Ago/2017

Boveda
Snel bezorgd en werkt prima! Dit product is aan te bevelen omdat zo de vochtigheid werkelijk op en top is ook voor oude droge krijg je weer goed!

No puedes publicar una reseña porque no has adquirido el producto
Restricciones
Si tu país no aparece en el listado de envíos, no podremos mandarte ningún artículo de nuestra web. Para obtener más información, echa un vistazo a la lista aquí: Pedidos & Envíos
Vídeo (1)
Vídeo: Cómo Almacenar Tu Hierba Correctamente

Como aficionado/a al cannabis, ya sabrás que no hay nada peor que fumar una hierba vieja, seca y quebradiza. La marihuana almacenada de forma incorrecta pierde sabor y potencia, y a menudo proporciona una fumada horrible. ¿Cómo puedes mantener tu hierba fresca durante más tiempo? ¡Descubre las mejores formas de almacenar tus reservas!