Magic Truffle Grinder
(

354

)
Las trufas mágicas son un gusto adquirido. Al masticarlas se liberan las moléculas del sabor, y si encuentras éste desagradable, consumir trufas puede ser todo un reto. El Grinder Magic Truffle de Zamnesia soluciona este problema de forma rápida.
Este artículo no está disponible en tu país
Lo sentimos, este producto no está disponible actualmente para enviar a tu país. Vuelve a comprobar su disponibilidad en el futuro.
Más
Accessorios para Trufas Mágicas - El Magic Truffle Grinder: Para un consumo de trufas más fácil y agradable.
¿No te gusta el sabor de las trufas mágicas? Masticarlas puede ser todo un desafío, como muy bien saben los psiconautas expertos. En el peor de los casos, se te revuelve el estómago y todo sale por el mismo sitio que entró, y te quedas sin setas antes de que hagan efecto.
El Grinder Magic Truffle de Zamnesia puede ser de gran ayuda, ya que transforma las trufas en una pasta fácil de ingerir. Lo que facilita el consumo y su absorción en el torrente sanguíneo.
Basta con colocar las trufas mágicas en el grinder, cerrar la tapa y girar ambas mitades hasta obtener una sustancia cremosa, parecida a la manteca. Tómalas con un vaso de agua si es necesario. ¡Que tengas un buen viaje!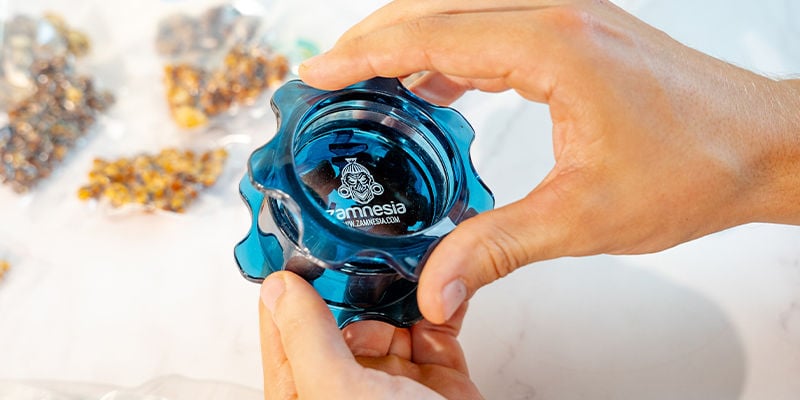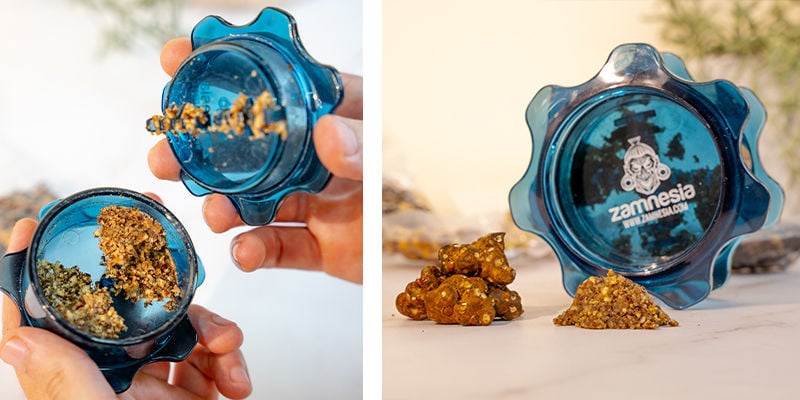 Magic Truffle Grinder - Ficha Técnica

| | |
| --- | --- |
| Tipo | Herramientas |
Más información relacionada con este producto:
Reseñas (354)
View all reviews

19/Nov/2023

Simple et efficace !
Pour ceux qui ont du mal avec le goût, c'est réglé avec ce moulin !

18/Nov/2023

Very nice
It works

13/Nov/2023

Nice
Nice grinder

12/Nov/2023

Moulin à champignons
Parfait pour son rôle

03/Nov/2023

Pas mal, un peu gros
C'est très volumineux, je suppose que c'est pour optimiser la prise et le couple pour vaincre la résistance de la truffe mais ça reste quand même trop gros pour se balader avec dans sa poche. Néanmoins c'est efficace et de bonne qualité

25/Oct/2023

Very satisfcactory
Bought it and thought it was only a gadget but grinds really well! Very convenient.

12/Oct/2023

Great
Good machine,chop my truffles for lemin tek perfect

12/Oct/2023

Encore du plastique...
C'est vraiment dommage qu'il soit en plastique.... avec toutes les bonnes idées que vous avez chez zamnesia je ne comprend pas qu'il y est un projet de grinder en bois ou alliage de métal et bois...car lorsque l'on s'en sert, il y a souvent des micro plastiques qui s'usent et finissent dans les préparations.... Mais sinon comme technique de marketing c'est agréable la première fois puis à partir du deuxième on se lasse rapidement.... À bon entendeur . Cordialement.

11/Oct/2023

Fait son travail
Franchement, pour le prix, rien à dire : il fait ce qu'on lui demande, vite et bien.

09/Oct/2023

Muy buena relación calidad -precio
Es ideal para lo que está hecho,triturar tus setas y trufas.Tiene un precio muy bueno e igualmente buena calidad.Me parece un producto muy práctico.Contenta con mi compra.

08/Oct/2023

Nickel
Fait son job !

04/Oct/2023

Fonctionne !
Pratique et efficace.

21/Sept/2023

Not bad
Good but mostly useful just to crush down big pieces into smaller. Not very useful if you want to actually create a powder

13/Sept/2023

Oui
Fait ce qu'on lui demande, surtout pour son

12/Sept/2023

Bon produit
Le produit remplit sa fonction correctement

08/Sept/2023

Grinder
Werkt goed,na een paar draaien is je truffel bijna mouse...maakt t inslikken makkelijker.. Eruit halen,is een ander verhaal,dat gaat moeilijk en er blijft veel achter wat je er eigenlijk uit gaat wassen

05/Sept/2023

TOP
Fonctionne comme il faut, rien à dire pour le prix

28/Ago/2023

gRiNdEr
El grinder esta bien, muele bien, es sencillo y rápido, al menos para trufas que es para lo que yo lo he utilizado. Lo único que se quedan después las trufas muy metidas y cuesta un poco sacarlas pero por lo demás bien

27/Ago/2023

Muy práctico para moler
Yo lo utilizo para moler las trufas y perfecto, lo malo es para limpiar los restos que se quedan

14/Ago/2023

Efficient
There is not much to say, it does what it advertizes, easy to clean too, so i like it especially when i use it for dried shrooms.

06/Ago/2023

Tut was es soll :)
Preis/Leistung absolut in Ordnung.

21/Jul/2023

Gut zu gebrauchen
Mit diesem Grinder zerkleinert und mit Wasser runtergeschluckt kann man die Säure spüren und es ist als würden die Trüffel prompt kommen, wenn auch anfangs nicht gleich so stark. Ich habe mir den Grinder eigentlich aus Neugierde und weil er nicht teuer ist gekauft und bin positiv überrascht von der Wirkung, auch wenn man keinen Tee machen will. Witzig: Es waren dann noch Rückstände im Grinder, die ich mit etwas Zitronenwasser herausgelöst habe und hatte damit noch einen schönen Abend mit einem Touch Psylocibin. Best regards

21/Jul/2023

Pratique
Très pratique, mais un peu pénible pour récupérer les petits morceaux coincés.

17/Jul/2023

Cute and practical grinder
Great looking grinder for your herbs and truffles. Could be a bit harder and not let grinded stuff get stuck in the grooves but you get well what you pay for. Zamnesia has us always covered.

17/Jul/2023

Does the job but you need a brush
Herbal products are probably slightly to grind with these sorts of grinders since the reduced moisture makes them less susceptible to clumping. With fresh truffles, you tend to get a lot of material stuck inside the teeth. You really need a little brush to get these out. I'm going to start drying my truffles for long-term storage, and I suspect I will have to upgrade this to a steel/aluminium one.

17/Jul/2023

Très pratique
Je l'utilise pour le micro-dosing, je me suis dit que c'était un peu épais comme grinding mais je suppose que c'est pensé pour pouvoir convenir à tous ls types de truffes. Ça vaudrait le coup de le livrer avec un pinceau, un truc pour décoller la matière coincée entre les strilles.

15/Jul/2023

Grinder
Yo lo utilizo para moler las trufas valhalla. En general el grinder está bien, muele bien las trufas, lo único es que luego (al menos a mí me pasó) cuesta sacar bien todas las trufas

12/Jul/2023

Facile et pratique
C'est vraimentPratique à utiliser.lles utiliser sec c'est plus facile. Sinon ça colle trop dans le fond. Une brossette de laduilkage et ça régler.

10/Jul/2023

Le moulin
Très pratique pour moulinet les truffes

10/Jul/2023

buen producto
Muy buen producto si quieres tomar en capsulas, hace una masa fina del producto. Muy recomendable.

03/Jul/2023

Parfait !
Le Grinder pour truffe est très bien car il faut pas oublier que il faut manger les truffes à jeun et bien mâcher pour que ça fasse bien effet ! Ce grinder est parfait pour ceux qui n'ont pas envie de mâcher car c'est vrai que le goût peut être désagréable et donner des nausées les 30 premières minutes.. Ça sert aussi pour ceux qui veulent faire du micro dosage et en mettre dans des gélules vides.. pour un cachet de 0,5g de truffe ou 1g le cachet. Ceux qui les utilisent en micro dosages c'est souvent pour remplacer un anti depresseur prendre deux cachets 1g donc 2g le matin à jeun et partir au boulot et croyez moi vous vous sentirez mieux qu'avec les AD en pharmacie.. mais qi vous prenez des AD ne les arrêtez pas prenez les truffes car de toute facon les truffes malheureusement ne dure que 3heures dans le corps en moyenne. Enfin je n'ai pas encore essayé cette technique mais je sais que c'est comme ça qu'il faut faire.

02/Jul/2023

Indispensable
Si ya habeis probado las trufas conocereis el sabor de estas... Son bastante desagradables pero con este grinder para trufas es un gozo!! Sientes el sabor pero no es desagradable, sube antes y no te da dolor de barriga ni nada!!! 10/10

28/Junio/2023

Magic grinder
Si easy to use. I use it for truffles and weed. Perfect plus I like the color and logo. V

26/Junio/2023

Moulin pour truffe
Achat fait point broyer les truffes magiques. Ce n est pas très adapté. Il faut être patient pour bien retirer le produit sans en perdre. Produit fiable et robuste

23/Junio/2023

Heel handig
Handig om thee te maken van truffels. Ik gebruikte een vijzel, maar dit werkt beter.

15/Junio/2023

indispensable
Rend l'expérience beaucoup plus agréable !!

14/Junio/2023

Très bien
Bien meilleure avec le grinder

09/Junio/2023

Pratique
Fait bien le taf , pour les personnes qui comme moi ne supporte pas mâcher les truffes

06/Junio/2023

Magic Truffle/Shroom Grinder
Very nice product, especially if you want to make some tea or make some shroom edibles!

01/Junio/2023

That one friend
There is always that one friend, who hates the taste of truffles. Can't even chew it. This piece of plastic solved everything. We grind it, he takes it and that's it. We can float together. We all float down here, anyway.

29/Mayo/2023

Correcto
..ningun problema!

25/Mayo/2023

Really helpful just keep it clean after use if u dont want stinky unhealthy mold
good

17/Mayo/2023

Nickel
Parfait pour se foncde

16/Mayo/2023

Pratique
Les truffes grindees semblent donner plus d effet

11/Mayo/2023

Pas indispensable mais presque !
C'est pas cher, ca fonctionne parfaitement, c'est super utile... Y'a pas grand chose a dire de plus ! C'est devenu un indispensable pour ma part. Allez pour être très critique, un modèle un peu plus grand serai appréciable.

11/Mayo/2023

Très bien !
Fait très bien son djob,la truffe devient de la pâte sans forcer et c'est parfait pour préparer avec du citron.

10/Mayo/2023

Joindre l'utile à l'agréable
Efficace, cela permet de l'ajouter dans un plat pour mieux faire passer le goût.

01/Mayo/2023

Super pratique
Beaucoup mieux que des grincer des truffes avec n'importe quoi je ne dirais pas indispensable mais très pratique

28/Abr/2023

Top
Très bien pour ceux qui ont du mal a les macher avec un peux de miel encore mieux

23/Abr/2023

Very good product
Very good product :)

22/Abr/2023

Does the job, hard to clean.
Can grind the truffles into a fine paste perfect for tea and lemon tek.

21/Abr/2023

parfait, fait son job
parfait, fait son job

18/Abr/2023

Parfait
Parfait comme toujours avec Zamnesia

18/Abr/2023

Pratique
J'étais un peu retissant au premier abord mais il fonctionne bien

15/Abr/2023

Works great!
Great little gadget for anyone who is sensitive to taste, especially if you want to micro dose or make a tasty meal !

13/Abr/2023

Works perfectly
A good quality and low-priced product, which works as intended. If some pieces get stuck, they are easy to get out by using a toothpick. I recommend.

13/Abr/2023

Useful, avoid chewing the truffle
Useful for the ones that like to take truffle already chewed, without having to chew them and have the taste in mouth. I grind them, and swallow them directly with a glass of tea. Much more agréable.

04/Abr/2023

Indispensable outil
Excellent grinder de truffes, fait ce qu'on attend de lui, fait passer le gout des truffes pour le dernier de vos soucis et vous libère de cette barrière, 10/10

31/Marzo/2023

Grinder truffes
Efficace mais si les truffes sont un peu humide, sa reste un peu bloqué dans le grinder.

31/Marzo/2023

top
funktioniert einwandfrei

30/Marzo/2023

Pas utile
Je l'ai acheté pour quelques un peu chiant avec les goûts et on à trouvé ça plutôt chiant à utiliser donc j'ai préféré les prendre directement, c'est plus simple 🤷

30/Marzo/2023

Tut was es soll
Tut was es soll.

21/Marzo/2023

works fine
Works fine with trüffels and garlic too ;)

17/Marzo/2023

Impeccable
Fonctionne bien , rien à redire

17/Marzo/2023

sympa
joli design plus utiliser en déco qu en greender

15/Marzo/2023

Excellent
Marche très bien

11/Marzo/2023

Parfait
Pratique et efficace!

09/Marzo/2023

It does it job
Does its job and it is inexpensive so 5 stars to me. The only downside is that the ground truffles get stuck and is not easy to get them out but it is something to be expected on this type of product.

07/Marzo/2023

works well
you will get a much better taste using it

07/Marzo/2023

Fijne grinder
Mijn vriendin vind de smaak van truffels verschrikkelijk waardoor ze ze bijna niet naar binnen krijgt. Door deze grinder krijgt ze ze mooi klein en kan ze ze in yogurt doen. Hierdoor gaat het perfect

07/Marzo/2023

Efficace, simple d'utilisation & pas cher
Rien à ajouter, il est top

07/Marzo/2023

Fonctionne parfaitement
Super utile et marche nickel

27/Feb/2023

Tres bien
Tres bon grinder efficace

24/Feb/2023

Must have for truffle lovers.
What else could I say?

01/Feb/2023

Nickel
Il me fallait un grinder a truffes/champi et celui ci rempli très bien ses fonctions, pratique fonctionnel et pas cher!

28/Ene/2023

Works great
Simple easy design, works great if you use common sense and do not over fill the grinder. Looks cool, cheap and is slightly bigger than weed grinder.

16/Ene/2023

Bon produit
Très pratique pour les grinder ! Pour ma part je n'ai rien à redire dessus. Parfait pour aider à les manger plus facilement !

10/Ene/2023

Excellent
Super grinder qui permet une meilleure prise des truffes et de faire passer l'amertume. A recommander

06/Ene/2023

Parfait
Permet de faire passer le gout désagréable des truffes plus facilement, rien à redire

28/Dic/2022

Utile
Utile pour broyer, plus facile à manger et à digérer et ça doit ainsi permettre une assimilation plus rapide des substances

28/Dic/2022

Funktioniert ganz gut
Habe meine Trüffel nur getrocknet gegrinded. Da sie durch das Trocknen fast steinhart geworden sind, hatte ich teilweise recht viel Mühe sie klein zu bekommen. Habe die ganz harten mit einem Messer durchgeschnitten, dann ging's super und die Trüffel wurden schön fein

24/Dic/2022

Efficace
Très efficace je trouve plus besoin de manger les truffes

21/Dic/2022

Parfait
Très utile et fonctionne bien

16/Dic/2022

excellent
Indispensable à mes yeux

04/Dic/2022

werkt heel goed
Maak je lekkere truffelpuree mee die je zo naar binnen glijdt. Voor een appel en een ei maak je de eerste stap van je truffeltrip ervaring veel veel vele aangenamer. Enjoy

28/Nov/2022

Super!
Super grinder. Pour ceux qui comme moi on des difficultés à mâcher les truffes. Évite d'avoir cet horrible goût en bouche qui me fait gerber.

25/Nov/2022

Fais le taff
Ca pourrait etre mieux mais ca fait le taff

22/Oct/2022

Always great
Top grinder.. makes a truffle butter perfect for tea. Thanks

14/Oct/2022

GRINDER
Bon petit grinder qui fait bien son taf, ce qui fait que je peux le recommander à tous(et non pas le commander à nouveau ha, ha, ha ) L'esthétique pêche un peu, mais pour du plastique, on va pas demander la lune non plus ...

07/Oct/2022

Indispensable
Je broie ,et ensuite je mange par cuillères mélangé avec du yaourt au chocolat. pour le prix , je conseille ;-)

05/Oct/2022

Grinder
Bon petit grinder fais le taf je recommande à tous

03/Oct/2022

A must for magic trufle fans!
If you're not a fan of chewing magic trufles then you need this!

07/Sept/2022

Moulin
Produit conforme aux attentes !

07/Sept/2022

Parfait
Je le recommande vraiment car le goût des truffes est particulière, et ça permet de pas les mâcher

02/Sept/2022

ça fait le taff
Ce grinder fait un peu de la purée de truffe mais en même temps ça ne peut pas faire grand chose d'autre. ça fait ce pour quoi ça existe.

01/Sept/2022

Practical and easy to use!
Does what it should, the truffle sticks a bit to the teeth inside the grinder, you'll need a knife or a cocktail stick to get it all out, but it works great!

30/Ago/2022

Quick delivery.
Grinder itself is proberly awesome for weed, but for fresh truffles it is to small, because you have to split up a bag 4 times to make it fit in the grinder,allso when the truffles is fresh, they stick to quickly in the grinder.

15/Ago/2022

Fait son job
C'est un produit simple mais relativement efficace. Certains morceaux sont un peu plus gros, mais dans l'ensemble ça broye les truffes correctement.

12/Ago/2022

Cheap and convenient
Whether you are making tea or plain eating your truffle, this is a must have. You get a paste that is easy to use and you don't lose any product. A lit bit annoying to get the paste out, it sticks between the teeth. Just use a thin knife to scrap it out and you'll be fine.

04/Ago/2022

Optimal
Funktioniert einwandfrei und tut was er soll.

03/Ago/2022

Grinder poderosamente grande
Es enorme, es bonito y se le nota duradero.

24/Jul/2022

aide
Aide vraiment à consommer les truffes, en les réduisant en petits tas qu'on peut avaler à la cuillère, car mâcher les truffes entières est une expérience que je ne souhaite pas renouveler !

21/Jul/2022

Pratique et pas cher
Vraiment très efficace, transforme vos truffes en une sorte de pâte utilisée pour ma part en Lemon tek. Parfait, pour le prix c'est indispensable.

12/Jul/2022

Does its job
Does its job

08/Jul/2022

Simple but perfect
Just perfect, cheep and perfectly fonctional

07/Jul/2022

Must have
This grinder is a must have to anyone who wishes to try out truffles, and ever more so if you do it on a regular basis. Its an awesome and cheap tool.

07/Jul/2022

Cumple con su función
Funciona bien, supongo que me más útil para grandes cantidades. Para microdosis no resulta necesario. Envío rápido y discreto.

07/Jul/2022

Simple
Simple and does what it shall do.

27/Junio/2022

Ras
Fait le taf rien a dire.

23/Junio/2022

Ultra pratique
N'étant pas fan du goût des truffes, ce grinder m'a épargné quelques douloureuses minutes de mastication. Quelques tours avec un bon shooter d'eau et c'est réglé. Je recommande vivement si vous souffrez du même problème!

22/Junio/2022

Me encanta!
Funciona genial! Tiene un buen diseño y cumple con su cometido.

21/Junio/2022

Phil
I was surprised how well this grinder ground up vac packed truffles. At first I forgot to try it and chopped up with a knife, but this grinder proved that the truffles can easily be ground into a plastic powder for faster and better absorption.

12/Junio/2022

Nice design
Easy to use. Practicall.

08/Junio/2022

Fait ce qu'ont lui demande
Très solide, très efficace, rien à redire, c'est un bon produit. Mâcher les truffes c'est infect >_

02/Junio/2022

does the job
works well, although some bits get stuck in the "teeth", have to use a knife to get them out, no complaints overall

29/Mayo/2022

Needed
If you do it on a regular basis, just order this item along! Get´s your truffles down to a nice mush which you can just eat and swallow or make a cup of tea out of it. Use your peppermint, add the mush, a little sugar and voila - but don´t forget to eat the rests on the bottom nether the less!

18/Mayo/2022

Super
Werkt perfect! Fijn malen helpt om de smaak te verzachten.

10/Mayo/2022

No olvides tener uno
Muy recomendable para los que no tenemos mucha experiencia y los sabores o texturas nos pueden jugar una mala pasada

07/Mayo/2022

Au top
Génial

07/Mayo/2022

Fait bien le job !
Acheté pour réduire les truffes, il fait bien le job mais il est parfois nécessaire de prendre un objet pointu pour réussir à tout récupérer !

06/Mayo/2022

efficace
bonjour a tous , déjà grindé une douzaine de sachets , et toujours impeccable ,

01/Mayo/2022

Muy útil
Habíamos probado las trufas antes y lo que menos nos gustaba era su sabor terroso pero sobre todo tener que comerlas. No es agradable de masticar. Pero con este pequeño accesorio se soluciona tu problema! Te deja una pasta de trufa que se come perfectamente con una cuchara y un poco de agua

23/Abr/2022

un design sacrément stylé ouai
et on évite le goût dégueu

15/Abr/2022

Okay
Great stuff, very strong.... not needed if if you like to chew the truffles, tho

12/Abr/2022

no lo usé todavía
Es bonito, aunque un poco grande.

10/Abr/2022

Werkt perfect
Doet precies wat die moet doen.

31/Marzo/2022

Pratique
Cette jolie petite boîte est très facile à utiliser

31/Marzo/2022

Pretty Design, Cool. But...
If you are lookng for an item that does his funtion it is perfect to you. BUT in my opinion there is not needed, i actualy eat the truffles directly as if it will b a dry fruit. It taste ver good. So i actually dont need too necessary to buy it. BUT if you really want to Grind it, this Grinder is perfect to you.

12/Marzo/2022

Good Grinder
It's a good Grinder. ...And good delivery. Thank you Zamnesia!

11/Marzo/2022

Moulin
Au top

10/Marzo/2022

Super SAV
Commande jamais arrivée. Mais un service client très bien qui m'a remboursé . La notation n'est donc pas pour le produit mais pour la qualité et la réactivité du SAV

07/Marzo/2022

bon grinder
Un peu trop volumineu, mais super pratique pour manger les truffes avec un yaourt !

04/Marzo/2022

Utile
Très utiles si on apprécie pas le goût. Plutôt stylé au max niveau design

24/Feb/2022

pour faire sécher
J'ai utilisé le grinder pour broyer les truffes, puis sechage au ventilateur à température ambiante. Truffes sèches en 3 heures, sans chauffage...

23/Feb/2022

Parfait!
Broie parfaitement bien

22/Feb/2022

Truffel grinder
Handig grinder voor truffels werk goed maak de truffels mooi fijn voor een lekker truffeltheetje aanrader.

21/Feb/2022

Praktisch
Werkt uitstekend en is verbazingwekkend stevig.

20/Feb/2022

Better for use with dry truffles, but then it works like Savoy Truffle
A beauty to look at and very nice to hold. Grinds dry truffles very well and should work with some herbs as well.

16/Feb/2022

Pratique
Ideal pour les truffes magiques

14/Feb/2022

Grind as it should
Who needs chewing any ways

11/Feb/2022

Cumple
El grinder cumple su función en cuanto a machacar las trufas, las deja molidas y muy agradables para el consumo y no tuve náuseas ni nada. Mejor no echar todas las trufas a la vez , si no se atasca un poco. Es un poco incomodo de recoger el producto machacado, por eso no le doy 5 estrellas

02/Feb/2022

Handig!
Zeer handig om je truffels te grinden!

19/Ene/2022

Remplis don rôle
Bon produit pour émincer

15/Ene/2022

Macht was er soll
netter Grinder, tolle sache für einen Lemon Tek oder Tee

30/Dic/2021

Funciona muy bien
Recomiendo no intentar meter 15 gr de trufas en él para grindarlas, es mejor grindar primero la mitad y luego la otra mitad, si se utiliza el grinder así el resultado es excelente.

25/Dic/2021

Avis
Useful and simple

03/Dic/2021

Parfait
Rempli parfaitement son travail. Surprenant au début ça forme une sorte de pâte... Mais ça permet de les ingérer bien plus facilement. Impeccable

01/Dic/2021

Great!
Good quality and efficient!

30/Nov/2021

It's better than in the picture
Great product and service with Zamnesia:)

27/Nov/2021

Bien
Evite la mastication et le goût pas très agréable !

18/Nov/2021

Ca passe
Ca émince bien les truffes, il faut y aller doucement par contre, ne pas trop en mettre d'un coup. Idéal pour faire un lemon tek ou un thé.

15/Nov/2021

Super
Bonne taille, les 15 gramme de truffe rentre facilement dedans et se grind sans effort

01/Nov/2021

Très utile
Au top !

22/Oct/2021

Muy Util!
Lo utilizamos para las trufas y nos facilitó mucho la vida.

20/Oct/2021

IamThatIam
Works perfectly, it becomes easy to eat the truffles. Many thanks

19/Oct/2021

Utile pour lemon tek
Très utile pour le lemon tek, le produit est globalement de qualité, bien qu'une petite dent soit déjà cassée (en le lavant). Sinon bon rapport qualité et beau package (produit pas Zamnesia)

19/Oct/2021

utile !
Si vous avez des soucis à mâcher les truffes voici l'outil qu'il vous faut !!!!!!!!!! Ne pas en mettre trop à la fois

11/Oct/2021

utile
tres utilepour reduire en petits morceaux les truffes gros bémol , certains petits morceaux reste bloqué ... comme dit sur un autre avis, utiliser un cure dent pour aider a déloger les restes

24/Sept/2021

Presque un sans faute
Pratique, même si réduire ses truffes magiques avec cet outil demande un peu d'effort. Petit bémol, la quantité de truffes qu'il peut accueillir est assez limitée. Avec 15g, de la matière a tendance à s'échapper sur les bords. Autre petit bémol, de la matière a tendance à rester coincée entre les dents de l'outil, pas d'autre choix pour la récupérer que d'utiliser un cure-dents ou autre tige suffisamment fine, ou encore une pointe de couteau. Je recommande malgré ces petits défauts, le résultat du broyage est une pâte épaisse bien plus facile à consommer que les truffes brutes et qui se mêle plus facilement à du jus de citron pour un lemon tek digne de ce nom.

23/Sept/2021

Werkt goed!
De grinder is van hard plastic en lijkt erg duurzaam. Als die volledig gevuld is (15gr.) kan het zijn dat de grinder 'tanden' wat ruw langs elkaar bewegen. Voor zover ik kon beoordelen kwam daarbij gelukkig geen plastic los die zou kunnen achterblijven in de truffelpasta.

03/Sept/2021

No le veo sentido
Dicen que sirve para quitarles el mal sabor y de paso cortarlas, pero no quita para nada el mal sabor y muchos de los trozos se quedan pegados y es difícil sacarlos, prefiero comerlas naturalmente y masticarlas bien, no le veo el sentido

28/Ago/2021

Nothing to complain
Good grinder for dry shrooms or truffles. Makes the consum easier or perfect too make a a tea

20/Ago/2021

Fácil y útil
Gira un poco duro al principio, pero enseguida se convierte en una pasta, facil de digerir y tragar. A mi me ha facilitado el tramo de comerlas, porque siempre me ha desagradado su sabor. 5/5

17/Ago/2021

Pratique
Très pratique, simple et efficace

17/Ago/2021

Excellent
Does the job! Brilliant.

03/Ago/2021

just works!
All you need for your truffle grinding! :)

24/Junio/2021

Está bien
El grinder va bien, aunque se queda un poco atorado, yo prefiero cortarlas a mano o con un cuchillo

21/Junio/2021

GOOD
Nice quality. Although, the one you get in the surprise bag, (which I was offered with one my orders), with the magnet, is better, more practical, even though it has a smaller capacity. OK.

19/Junio/2021

cheap and ok
Very useful

15/Junio/2021

Fun.
Plus qu'un gadget. Le fun n'échappe pas au côté pratique.

09/Junio/2021

cumple su función
aunque no es necesario ya que el sabor de las trufas me parece bueno, saben a setas! hmmmm

02/Junio/2021

Pratique
Pratique à utiliser pour se faire des capsules psy

25/Mayo/2021

Pratique
Pratique et de bonne qualité.

06/Mayo/2021

Satisfait
De bonne qualité

02/Mayo/2021

works!
Don't use a large amount of truffles at once! Other than that you are good to go!

06/Abr/2021

Parfait
Parfait

06/Abr/2021

Perfecto
Solo lo he usado una vez, pero lo encuentro muy funcional, y parece resistente. EL precio muy razonable, el envío correcto. Todo bien!

04/Abr/2021

Easy to use
Really easy to use and very effective. In addition to that, it makes swallowing magic truffles easier. When I was chewing it the taste created the feeling of throwing up. But, using this it's a lot easier to swallow it.

01/Abr/2021

Super produit
Rapid discret et bon voyage pour le reste

29/Marzo/2021

Top
Kriegt es wirklich ser klein die Pilze

21/Marzo/2021

Solo para trufas frescas
Muy práctico para picar trufas frescas. Si están ya secas, bien secas, no podrá con ellas; hay que usar un mortero o una picadora eléctrica.

20/Marzo/2021

Pratique
usefull

14/Marzo/2021

Handig
Werkt goed.

13/Marzo/2021

Nicht für vakuumierte Trüffel
Das produkt ist nicht geeignet für die vaakum verpackten trüffel aus dem shop, diese kleben überall an, jedoch für getrocknete trüffel einfach perfekt!

13/Marzo/2021

Very good
Good quality

12/Marzo/2021

Top
Werkt veel beter dan snijden of lang kauwen

07/Marzo/2021

Impeccable
Marche parfaitement bien

04/Marzo/2021

PARFAIT
Bon petit émincé pour une petite infusion. Ça passe tout seul ! Je valide !

24/Feb/2021

Conforme
Fait son devoir, simple et efficace.

13/Feb/2021

très pratique
Si vous connaissez ou désirez expérimenter le Lemon Tek, cet accessoire est indispensable

09/Feb/2021

Onmisbaar
Makkelijk te gebruiken. Een echte aanrader.

09/Feb/2021

Sirve para lo que es
Va muy bien para picar sin usar tabla ni cuchillo, tus trufas, y quedan muy picaditas.

08/Feb/2021

Pasta
Persoonlijk vind ik het knabbelen van stukjes (in honingthee getrokken) truffels fijner dan de pasta die je heel vlug hebt met deze grinder. Maar hij maalt dus wel perfect, dus ik gebruik hem nu voor rookgerief.

03/Feb/2021

Niet mijn ding
Besteld omdat ik dacht dat het makkelijker was dan de truffels te snijden, maar is toch niet mijn ding. Werkt prima, krijgt een mooie pasta met de Grinder.

23/Ene/2021

Handig
Niet te missen gadget!

15/Ene/2021

Works
It works. It could be better. It gets the work done.

14/Ene/2021

Producto indispensable
El acabado es de plástico, pero tiene la suficiente calidad para esperar que tenga una buena duración sin tener problemas. El trinchado que hace en las trufas es como si fuera una masa, muy buena opción para tomarlas junto a la receta lemon tek --> https://www.zamnesia.es/blog-limon-tek-para-un-viaje-mas-rapido-n232 Un alivio, ya que masticar las trufas nos resulta bastante desagradable.

09/Ene/2021

Sans doute pas indispensable mais super pratique
C'est quand même cool de ne pas avoir à mâcher. :D

05/Ene/2021

Génial !
J'aurais dû acheter ce moulin à truffes dès le début, là il suffit d'avaler la patte avec un verre d'eau et on ne sent pas le goût infect des truffes ! je recommande , indispensable !!!

02/Ene/2021

Good grinder
U dont need to chew anymore thanks of this grinder i just grind it and put in a spoon en make it compact and just swallow I didnt had to deal with vomit or anything. Its also good for to make tea easily

31/Dic/2020

Bon produit
Indispensable pour avaler les truffes.Passer la 1 et 2 fois les trufges

30/Dic/2020

Good
Takes a little while to learn to use, after that great tool. To use: put it between flat hands, push as hard as you can, then turn and scrape it out gently with a fork straight into lemon juice. To clean: after use i just fill it up with tapwater and couple of hours later it's as good as new after rinsing.

29/Dic/2020

Pratique...
Pratique pour les sclérotes les plus grosses. À ne pas oublier de nettoyer après usage...

18/Dic/2020

Truffes
Interessant je reexprerimenterai!

04/Dic/2020

Pricey piece of plastic - Save the money and use a blender for shrooms
I tried it and I got annoyed by it pretty quickly as it tends to block easily and if you still try to break down the stuff inside by more force it deliberately opens, if you don't be careful, and spoils powder all over I got myself a smoothy blender with an extra cup for grinding, works like sharm to grind shrooms

30/Nov/2020

Top.
Muy recomendable, facilita muchísimo la ingesta de las trufas. Yo suelo sufrir mucho con arcadas, etc. He utilizado esto dos veces y las dos sin problema. Ya nunca sin el grinder haha

17/Nov/2020

Indispensable et parfait !
Je ne vois pas comment je consommerais correctement mes truffes sans ce génial petit moulin qui fait très bien son job. Il permet de les réduire en une bouillie qui aurait presque bon goût et d'éviter ainsi une mastication longue et laborieuse. Le seul petit bémol, c'est qu'il faut prévoir un ustensile genre bout de cuillère pour gratter entre les "lames" plastiques afin de récupérer la précieuse substance, mais rien d'insurmontable.

17/Nov/2020

Pratique et de bonne qualité
Pour ceux qui n'aiment pas le goût des truffes, ce moulin est un allié précieux.

05/Nov/2020

experiencia menos traumática
La verdad que la experiencia con las trufas es mucho menos traumática con este grinder super util

02/Nov/2020

Chouette Moulin
Pratique et simple à utiliser, seul un léger bémol pour le nettoyer, il faut juste trouver le bon pinceau!

02/Nov/2020

Fonctionne parfaitement
Très pratique pour éviter de s'embêter avec un couteau, se lave facilement et paraît très robuste.

02/Nov/2020

Muy bueno
Muy buen material. Te permite dejar las trufas como unas pasta. Perfecto.

30/Oct/2020

Helpful!
Im not a fan of the plastic, but its good quality nevertheless! Works well with the truffles.

27/Oct/2020

Scheelt snijwerk
Niet te veel tegelijkertijd in de grinder gooien, dan is het moeilijk om te draaien. De truffels worden goed klein gemalen, dit scheelt veel snijwerk. Ze blijven wel overal in de grinder plakken, dus dit nog even eruit krabben.

21/Oct/2020

Necessary
You need to get used to how it works but if it's hard for you to eat truffles without grinding them, this is your solution.

14/Oct/2020

Great
Needed a lot of blunt force to make this grinder work, but it sure beats eating the truffles whole. Works as supposed to!

13/Ago/2020

Moyen
Pas efficace du tout sur truffes bien séchées

07/Ago/2020

Moulin de bon qualité
Très pratique et simple à utiliser. Perfecto.

31/Jul/2020

Muy Necesario.
Este grinder es simplemente una maravilla para dejar las trufitas bien picaditas.Luego le das un cepillado bajo el grifo y listo!!! Gracias Zami!!!.

16/Jul/2020

Super
Super produits et service client.

07/Jul/2020

Parfait
Très efficace, la meilleure méthode que j'ai trouvé pour grinder mes truffes ! Facile à nettoyer en plus.

12/Junio/2020

Works well
A little tougher on the nuttier truffles. But fantastic little thing that sure beats chopping it all up.

05/Junio/2020

Perfect!!
Va muy bien, gran tamaño. Cuando "grindeas" las trufas quedan dos pequeñas porciones, perfecto para compartir o racionar el tema. Parece muy resistente.

04/Junio/2020

super voor 't omeletje!
zeer handig! als je een eitje maakt, kan je de gemixte mushies er zo over strooien zo werd het zelfs lekker!!

03/Junio/2020

Perfect
Ik krijg zelf de mushrooms amper binnen door de smaak, met de grinder kan je het in 1 keer opeten en de effecten zijn super.

01/Junio/2020

Pratique
Pratique pour broyer les truffes juste un mini conseil, ne soyez pas débile comme moi, faites les sécher avant de les broyer ( les truffes zamnesia sont arrivent fraîche dans le pochon)

01/Junio/2020

Perfect
Highly recommend it for truffles and shrooms. Makes it so much easier!

28/Mayo/2020

Pratique et utile
Moulin de bonne qualité même si il est en plastique, franchement pratique pour préparer vos truffes pour une consommation optimisée et une meilleur assimilation par votre organisme. Cela évite les nausées car l'estomac est moins sollicité par la dissolution gastrique. Bon Trip les mecs!

18/Mayo/2020

Excellent
I just bought this grinder and tried it with truffles. It is excellent and I really recomend it as it allow you to create a paste with your truffles and mix it very well with lemon and water. Very easy, very convenient and inexpensive. A must.

13/Mayo/2020

GRAN GRINDER
Este grinder para mi es indispensable ya que tiene un gran manejo. Muy fácil de usar, practico y precioso. Lo utilizo cada vez que como trufas ya que se pican con facilidad y se ingieren mucho mejor. Con él realizo té y comidas con trufas (como chocolatinas). Te facilita mucho trabajo. Muy útil. 100% recomendable.

06/Mayo/2020

Efficace mais assez cassant
Efficace mais assez cassant

30/Abr/2020

Parfait
Cet instrument tout simple permet de broyer les truffes en une pâte fine agréable à consommer.

06/Abr/2020

Not so interesting
The paste you obtain after having grinded it stays stuck in the grinder. And it's not so easy to take it after. I think you could smash it with a knife for exemple and you would have almost the same thing.

23/Marzo/2020

Works well
Perfect for the purpose! Recommended for good alternative ingestion of mushrooms (such pills or food adding)

09/Marzo/2020

Imprescindible
Muy útil, hace una pasta de manera rápida y fácil lo cual facilita mucho el ingerirlas.

06/Marzo/2020

Genial
Poco que decir. Un grinder con el que convertir la trufa en pasta. Para qué? Dos motivos: - Hacer un lemon Tek (bebida con limón y agua). - Evitar el mal sabor de las trufas mientras las masticas.

17/Feb/2020

Artículo básico si tomas trufas
Si solo las vas a tomar una vez las puedes intentar masticar, pero si tomas trufas con más o menos frecuencia te darás cuenta que, para disfrutar bien de ellas tienes que inventar algo y no sufrir con ese sabor. Muy recomendable!

12/Feb/2020

Pratique
Permet un bon broyage donc évite beaucoup le mauvais gout en bouche sur la durée, je recommande et j'en recommande. Que la paix soit avec vous mes chères camarades de drogues.

16/Dic/2019

Good quality
Recommended

30/Oct/2019

perfect
Does exactly what it needs to do and helps swallowing the truffles with their aweful taste.

25/Oct/2019

pratique
Il permet de rendre les truffes plus digestes, un bon investissement.

18/Oct/2019

USeful tool
Such a useful tool to have, spares you the chewing up of those disgusting but lovely truffles. make this into a paste and pour some lemon with it.

14/Oct/2019

Pretty handy to have
Works fine, need to spoon out the truffle.

09/Oct/2019

Conforme
Dommage car non aimanté, néanmoins très pratique avec réservoir sur le dessus.

17/Sept/2019

Indispensable
Très pratique

26/Ago/2019

Muy útil.
Lo usé para trozear las trufas y con unos pocos giros las convierte en una pasta estupenda para mezclar con yogur o zumo.

07/Ago/2019

Praktisch!
Erfüllt seinen Zweck optimal.

05/Jul/2019

works
title says it all

04/Jul/2019

Super Produkt!
Ich kann Euch den Grinder sehr empfehlen! Danke ZAMNESIA! Bin sehr zufrieden mit diesem Produkt!

04/Junio/2019

Meeh
The truffles stay stuck in it and it hard to clean to get all of the bits left in, it does grind very well tho I'll stick to chewing my forest candy

11/Abr/2019

Works fine
Worked great to grind the truffles I had into a fine paste to make tea with.

21/Marzo/2019

Perfektní
Skvělá drtička na magické lanýže. Nadrtí vám vaše lanýže na takovou lehkou kašičku, která se pak velice snadno žvýká. Recommend

14/Marzo/2019

Funktioniert!
Wenn man den Grinder nicht überfüllt, funktioniert er recht gut. Bei zu großer Ladung benötigt man zu viel Kraft und es bleiben auch Trüffelstücke im Grinder stecken. Also ein Paket Trüffel auf vier mal grinden, dann geht es recht gut!

25/Feb/2019

Perfect grinder
Ideal for mushrooms, also keeps my weed grinders clean from the taste / smell

12/Feb/2019

Bon produit
Simple d'utilisation produit une pâte fine pouvant être utilisée pour faire du thé

05/Feb/2019

Bon produit
Ce moulin fait bien son travail, on peut rentrer les 15 grammes de truffes sans trop de difficultés et obtenir une jolie pâte en quelques tours de main... pratique et efficace aussi!

02/Ene/2019

thumbs up!
handig dingetje :) grt Wendy x

31/Dic/2018

good
works good

13/Dic/2018

Fonctionne bien
Efficace

26/Oct/2018

Must have
Really made it more easy to consume the truffles

25/Oct/2018

truffle grinder
nice and smooth grinding for those of us who do not want or do not have an electric grinder. clean up is also very simple which is another plus.

25/Oct/2018

A must have for truffle enthusiasts!
Worth the purchase, it totally makes a difference in the digestibility of the truffles. Once grinded and mixed with a pinch of fresh squeezed lemon juice the potency goes one level higher. It's a solid little contraption, glad I bought it here!

24/Sept/2018

Efficace
Et facile à nettoyer.

02/Ago/2018

Does exactly what it needs to do
well constructed piece of acrylic, gets the job done!

09/Jul/2018

Good accessory
Perfect for lemon tek!

22/Junio/2018

Good product
Grinder works okay. Remember, though, that you will need quite some force to grind the truffles. I would recommend using a blender instead. But the product does what is advertised.

28/Abr/2018

Good product
This product grinds the truffles into a nice consistency and makes them easier to ingest. Good quality and easy to use, definitely recommend.

04/Ene/2018

Grinder
Très satisfait, fait le boulot

26/Dic/2017

Good product
Easy in use and good quality

10/Nov/2017

Must have
Preparing a truffle tea with this is fast, easy, no-mess .. its a great product.

16/Jul/2017

Excellent
Great idea, helps to get the truffles in the tummy without having to taste them too much. Works a treat!

24/Mayo/2017

Très satisfait
Très bon achat, aide à faire passer cet horrible goût!

29/Marzo/2017

Helpful
Easy to use and clean

09/Feb/2017

Usefull
Quick and easy to use

08/Feb/2017

Pas mal
Essayé seulement avec des truffes, ça marche plutôt bien mais faut vraiment pas en mettre beaucoup sinon il se remplit trop et on ne peut plus tourner .. sinon il broie très bien !

01/Feb/2017

Bien
Hace su función, genial para ahorrarte el mal sabor al masticarlas.

13/Ene/2017

Smashed em up
Decent little thing dunno if it was meant to all collect in one corner but if so it helped to collect it all up..... I find best way is to eat them with a few salted peanuts to take away the taste

04/Ene/2017

pajarito
Is a good griner, for a low price.

22/Dic/2016

A must have!
YES! I have always found truffles very hard to chew because of the horrible taste. This grinder makes everything much easier!

20/Dic/2016

Recommended
Every truffle user should use this. Taste becomes much grater with this.

23/Nov/2016

Great Grinder
Makes the consumption of truffles much easier and softens the often awful taste. Also kicked in quicker once broken down.

14/Nov/2016

Excellent quality
Using this is recommended as you can just swallow the ground up truffles and 'voila', little aftertaste.

12/Oct/2016

It's good
It does its work, easy to use.

12/Oct/2016

Does the trick.
Good grinder.

05/Sept/2016

Good job
Le grinder fait le travail, rien à redire la dessus je ne regrette pas cet achat.

02/Ago/2016

Helpful
The customer service at Zamnesia is amazing. They sorted my issue out properly. This grinder gets those truffles nice and crushed. Does a good job

30/Junio/2016

Thank you
This grinder is a Good Friend!

23/Junio/2016

Very Good!!
Grinds them truffles real good!!

06/Junio/2016

Perfect
Does the job, that's all you need.

24/Mayo/2016

Mr Star
good no need chew

15/Marzo/2016

It does its works
Useful, nice, easy to use and clean

07/Marzo/2016

Great!
Useful little gadget. Keep it clean coz manky rotting shrooms are a big turn off.

14/Feb/2016

Really easy to use
Fab grinder which was super easy to use, good size and effective! Really happy with this product :)

30/Mayo/2016

Excellent ! !!! !
Pas besoin de mâcher sa fait super

20/Ene/2016

Très pratique
Ça ne rend pas le produit meilleur haha, mais plus supportable/plus rapide à mâcher.

11/Ene/2016

Usefull
You can chew the truffles much easier

11/Ene/2016

DukeofWessex
Very happy, good size and comfortable to hold. Had no issues with fresh truffles and dry mushrooms

29/Dic/2015

Easy to use and useful lil helper.
Makes chewing process much faster and easier. Worth of it to have.

No puedes publicar una reseña porque no has adquirido el producto
Restricciones
Si tu país no aparece en el listado de envíos, no podremos mandarte ningún artículo de nuestra web. Para obtener más información, echa un vistazo a la lista aquí: Pedidos & Envíos
Vídeo (1)
Vídeo: Presentamos el Grinder de Trufas de Zamnesia

¿Te gustan las trufas mágicas pero no su sabor? ¡Tenemos lo que necesitas! El Grinder Magic de Zamnesia para Trufas te permite hacer una pasta con las trufas sin dañar el contenido. De esta forma, son fáciles de tragar, y además se pueden añadir a cualquier aperitivo. ¡Aprende aquí a usarlo!