La Teoría del Mono Fumado de la Evolución Humana
Published : Nov 19, 2013
Categories : Blog • Psicodélicos • Setas Mágicas

Si eres europeo, seguramente sabrás acerca de Darwin y la teoría de la evolución. Lo que es menos probable es que hayas oídos hablar de la teoría del "Mono Fumado" de Terence McKenna. Afortunadamente, estamos aquí para rellenar los espacios en blanco.
Terence McKenna fue un filósofo estadounidense que basó su trabajo de toda la vida en la naturaleza de la conciencia y fue pionero en el uso de altas dosis de psicodélicos. En sus numerosos libros, expone unas teorías extraordinarias, y una especialmente intrigante es acerca de cómo los psicodélicos han dado forma a la evolución humana, cómo ayudaron al homo erectus a convertirse finalmente en homo sapiens. Es lo que actualmente se conoce como "La Teoría del Mono Fumado de la Evolución Humana"
La teoría
Según la teoría de McKenna, que se describe en su libro "Food of the Gods", a medida que la selva del norte de África disminuyó hacia el final de la última edad de hielo, dio paso a grandes extensiones de pastizales abiertos. Nuestros antepasados, quienes previamente habían vivido en viviendas hechas con ramas, se enfrentaban ahora a un nuevo reto de adaptación con el fin de sobrevivir. El autor sostiene que nuestros antepasados seguían a los rebaños de animales y los cazaban, pero también vivían de la tierra. Al seguir los rebaños, es muy probable que encontraran setas mágicas en el estiércol que estos dejaban. Es la introducción de estos hongos en la dieta de los primeros seres humanos lo que se cree que nos han impulsado a la cima de la cadena alimentaria.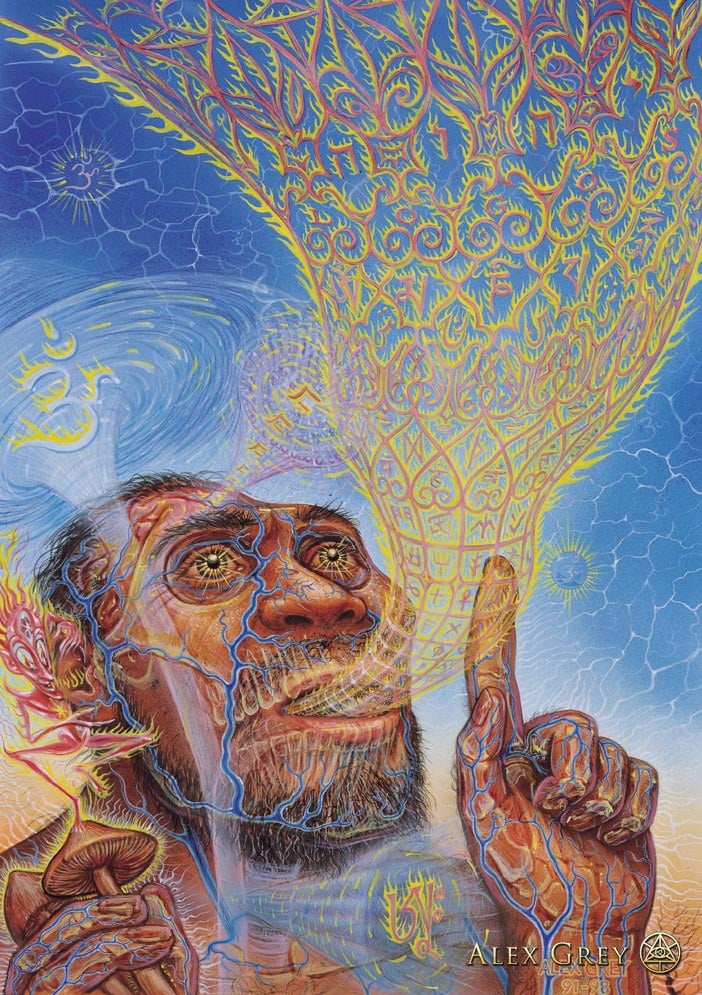 Alex Grey - The Visionary Origin of Language
¡ ¿Qué? ! ¿Cómo nos ayudaron las setas mágicas a evolucionar?
En primer lugar, según McKenna, la agudeza visual que se logra con una pequeña dosis de psilocibina, les habría dado una gran ventaja evolutiva a la hora de cazar. Hubiera sido mucho más fácil para ellos encontrar y rastrear una presa. Esto significa que la comunidad tenía una mayor cantidad de alimentos, lo que se traduce en un grupo más sano y con una mayor tasa de reproducción - que es básicamente lo que es la evolución.
La psilocibina en dosis ligeramente más altas actúa como un estimulante sexual, otro beneficio evolutivo, y que lógicamente tendría como resultado una descendencia más abundante. Y las dosis más altas hasta pueden empezar a cambiar nuestra forma de pensar y acabar con nuestros límites. Si este era el caso de nuestros antepasados, las dosis altas habrían promovido vínculos comunitarios, haciéndolos más solidarios para con los demás y fortaleciendo el grupo como una unidad.
Lo que también es muy interesante de esta teoría, es que McKenna opina que la estimulación psicoactiva de los hongos alucinógenos habría fomentado la comunicación verbal. Es un pensamiento revolucionario por derecho propio. En esencia, sostiene, las setas promovieron el pensamiento lingüístico y el desarrollo de las palabras y, en última instancia, un lenguaje complejo.

Como puedes ver, es una interesante teoría. Puede sonar bastante extravagante para algunos, pero no es exactamente inverosímil. No es una teoría que dice que otros están equivocados y que es así exactamente cómo evolucionamos hasta convertirnos en lo que somos hoy, sino que, más bien, parece que dice que los hongos mágicos fueron una guía que se unieron al proceso general.
comments powered by

Disqus