Reseña de Cepa: Agent Orange
Published : Sep 13, 2015
Categories : Blog • Cannabis • Reseñas de Cepas

La Agent Orange ocupa un lugar muy especial en el corazón de muchos entendidos por su característico sabor. No dejes que su nombre te engañe, aunque es fuerte, esta belleza no tiene ninguna ...
... intención de hacerte daño.
La Agent Orange no tiene nada que ver con el armamento químico utilizado durante la Guerra de Vietnam. En todo caso, es el polo opuesto. La Agent Orange es una cepa muy demandada y querida de la década de los 90, que fue la gran protagonista del Festival de la High Times Harvest en el momento de su aparición.
Mezcla de Jack The Ripper y Orange Velvet.
Se cree que la Agent Orange original es la obra de Subcool, un conocido entendido y productor que fundó el banco de semillas TGA. Según la leyenda, la cepa fue creada por Subcool en un intento de recrear la cepa de Juan Moore conocida como 7Up. Lo hizo mediante el cruce de uno de sus famosos clones de la Jack´s Cleaner con una cepa naranja skunk conocida como Orange Velvet. Más adelante continuó desarrollándose como una mezcla de la Jack The Ripper y la Orange Velvet, siendo la Jack The Ripper una mezcla de la Jack´s Cleaner y la Space Queen.
La experiencia
El híbrido resultante, la Agent Orange, produce unos brotes excelentes. Si hay que describir la experiencia con una sola palabra, sería feliz, pero el principal atractivo de la Agent Orange para los veteranos y entendidos es su insólito sabor - no existe nada parecido. Hay muy pocas cepas que pueden presumir de ser fácilmente identificadas en una prueba de sabor con los ojos tapados, pero el inconfundible sabor de la Agent Orange es una de las excepciones. Tiene un fuerte sabor dulce y a cítricos que, como su nombre indica, presenta un rico sabor a naranja.
Como ya se ha mencionado, el subidón causado por esta mezcla de Indica y Sativa es intensamente eufórico. Una profunda calada proporcionará una agradable sensación que durará horas. Es perfecta para fumarla durante el día y para compartir con amigos - sus excelentes propiedades edificantes del ánimo os tendrán a todos riéndoos y charlando todo el día mientras veis el mundo pasar. Cabe señalar que el fuerte golpe de la Agent Orange puede llegar a ser un poco abrumador para los inexpertos, y los que la fuman por primera vez deberán aproximarse con cautela.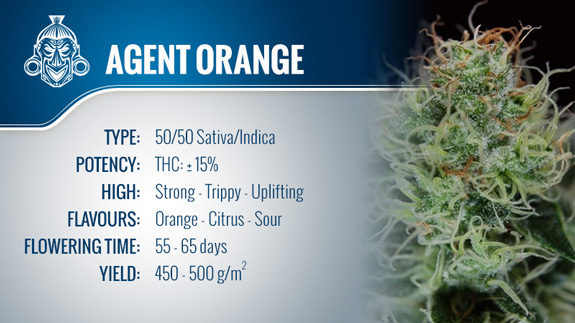 La Agent Orange en el cuarto de cultivo
La Agent Orange crece bien tanto en un cuarto de cultivo como en el exterior - aunque puede alcanzar unas imponentes alturas, lo que hace que sea un poco difícil para criar en lugares de espacio limitado. En el exterior, se adapta mejor a climas cálidos, como los de España, Italia o California. En estas condiciones, la Agent Orange puede lelgar a los 3 metros de altura. Y producirá unos rendimientos de acuerdo con su descomunal tamaño. En el interior, se obtienen mejores resultados cuando se despunta y se poda durante la etapa vegetativa. En cuanto a su periodo de floración, en el interior la Agent Orange tarda unos 60 días; y en el exterior estará lista para su cosecha en octubre. La potencia de la Agent Orange es de entre el 15% y el 20% de THC y un nivel de CBD de aproximadamente el 0,3 %. Una cosecha media de la Agent Orange cuando se cultiva bajo una mano experta es de 600 - 800 gramos/m2 - ¡una producción de proporciones épicas!
En conclusión, tenemos que darle a esta cepa el crédito que se merece. Tal vez no sea la más fácil para los cultivadores novatos, pero la potente e inolvidable experiencia que ofrece la Agent Orange no se puede dejar pasar.
¿Ya has probado el seductor sabor de la Agent Orange? ¿Qué piensas? Cuéntanoslo en la sección de comentarios de abajo
comments powered by

Disqus