Se Aprueba en Indiana La Primera Iglesia del Cannabis
Publicaciones : Abril 21, 2015
Categorías : Blog • Cannabis
El cannabis y la religión siempre han tenido una estrecha y entrelazada historia, y esta nueva iglesia está dispuesta a traer esta relación al siglo XXI.
El secretario de estado de Indiana, EE.UU, ha aprobado de forma oficial la fundación de la The First Church of Cannabis, una nueva corporación religiosa que tendrá al cannabis como principal sacramento de su doctrina - a pesar de que el cannabis es totalmente ilegal en el estado.
Esta medida surge tras la reciente firma de la Ley de Restauración de la Libertad Religiosa en Indiana, que ha abierto el camino para el establecimiento de nuevas instituciones religiosas. Esta nueva iglesia centrada en el cannabis, ha sido fundada y aprobada con la intención de que "se inicie una iglesia basada en el amor y la comprensión con compasión para todos."
A pesar de que el cannabis es parte esencial de su doctrina, el fundador de la iglesia, Bill Levin, ha declarado que cultivarán cáñamo, y que no cultivarán, comprarán ni venderán marihuana. Sin embargo, Levin ha dicho que si un "cannateriano" desea fumar en sus santas salas, "Dios les bendiga".
Ahora que la religión ha sido aprobada, Levin planea construir en su suelo santo una iglesia de hormigón de cáñamo, un duradero material de construcción de carbono negativo, creado a partir de cáñamo (así es, ¡elimina el carbono del medio ambiente!). Una vez construida, esta iglesia tendrán por objeto ayudar a difundir el amor y la compasión, y enseñar a sus miembros cómo llevar una vida sana - y sus mandamientos aportarán sugerencias sobre cómo deben proceder. También se centrarán en el apoyo a la rehabilitación de adictos a la heroína, así como de personas que sufren de alcoholismo.
Pero los miembros de la iglesia no podrán serlo de forma gratuita. Ah, no. En un guiño cómico a la cultura del cannabis, Levin ha declarado que pedirá a cada miembro una donación mensual de $4.20, para el mantenimiento de la iglesia.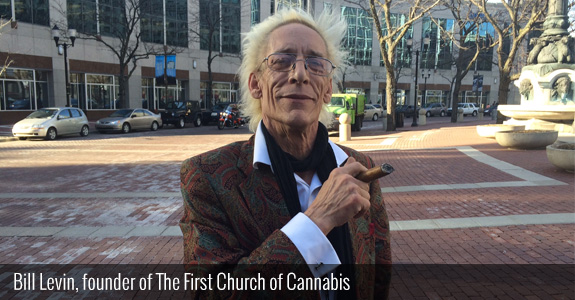 LOS ASPECTOS TÉCNICOS DE LA LEY
Podrías pensar que en un estado en el que el cannabis es ilegal, la fundación de una iglesia cuya doctrina gira en torno al cannabis, se habría paralizado en seco. Sin embargo, la redacción de la nueva Ley de la RLR significa que mientras los miembros de la Primera Iglesia del Cannabis puedan demostrar que el consumo de cannabis forma parte de sus prácticas religiosas, no deberían tener ningún problema.
En un artículo sobre el tema, el abogado y comentarista político de Indiana, Hakim Shabazz, ha dicho que se ha colocado a los legisladores del estado en una posición en la podrían tener que reconocer formalmente a la gente que fuma cannabis por motivos religiosos. Y añade: "Recuerda, bajo la Ley de la RLR, el estado debe articular un convincente interés en impedir que fumemos hierba. Yo sostengo que no lo puede hacer."
Se están planteando numerosas preguntas sobre el futuro de las leyes de libertad religiosa, así como sobre el papel que el cannabis desempeña en la sociedad. A nosotros nos interesa saber cómo se va a llevar esta teoría a la práctica, una vez que la Iglesia del Cannabis se haya establecido plenamente.