JACK HERER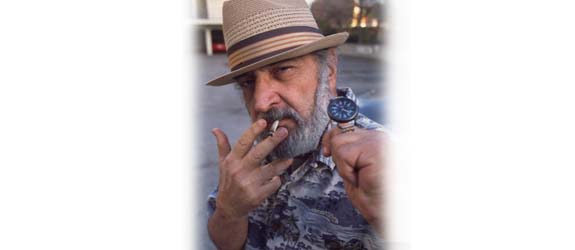 Jack Herer, autor de "The Emperor Wears No Clothes", fue una personalidad brillante en el movimiento por la legalización del cannabis y el fundador y director de la organización "Help End Marijuana Prohibition (HEMP)". A veces se le llamaba el "Emperador del Hemp(cáñamo)" y un documental sobre su vida se titula también Emperor of Hemp. Hasta hay una cepa de cannabis con su nombre - Jack Herer, una variedad predominantemente sativa y ganadora de múltiples premios, que fue desarrollada en 1995 por Sensi Seeds en Holanda. Llegó a presentarse dos veces a la presidencia de los Estados Unidos, como candidato del partido Grassroots, y tiene un lugar en el Hall of Fame de la Contracultura. Creía que el cannabis es la planta perfecta para proporcionar una fuente renovable de medicina, alimento y combustible, y que el gobierno de USA mantiene la prueba de esto bajo llave. Desgraciadamente, Jack Herer falleció justo cuando el movimiento comenzaba a tomar impulso.
Jack Here nació el 18 de junio de 1939 en la ciudad de Nueva York, el más joven de tres hermanos, pero creció en Búfalo, N.Y. Se unió al ejército y luchó en Corea tras abandonar la enseñanza secundaria, y a su regreso trabajó como pintor de carteles.
A principios de los años 60, se trasladó con su familia a Los Ángeles y, aunque se divorció un poco después, se mantuvo en contacto con sus hijos. A finales de los 60, cuando tenía 30 años, Jack tuvo su primera experiencia fumando cannabis, que hizo que abandonara su trabajo como pintor de carteles y que abriera una tienda de fumadores en Venice Beach, donde trabó amistad, para toda la vida, con Ed Adair, otro propietario de tienda para fumadores y partidario de la legalización de la marihuana.
En 1973 acordaron que lucharían hasta que el cannabis fuera legalizado y que todo preso por posesión fuera liberado. En 1981 Jack fue arrestado por entrar sin autorización en una propiedad federal, mientras recogía firmas para una iniciativa de voto en California. Durante sus 14 días como preso, comenzó a escribir "The Emperor Wears No Clothes" y tras su liberación se mudó a Portland, donde abrió su tienda "The Third Eye" en Southeast Hawthorne Boulevard. Acabó el libro, hizo imprimirlo en papel de cáñamo y lo publicó en 1985.
En él, menciona que el gobierno de USA prohibió el cannabis en 1939 porque querían erradicar la lacra denominada "Marijuana"; y esto en contra del hecho de que la flor seca de cannabis ha sido usada por la humanidad durante siglos. Ignorando que las fibras de la planta son muy duraderas y que las semillas podrían servir como alimento alto en proteínas. Su amigo Ed murió en 1991, pero Jack siguió luchando y viajando, promoviendo la legalización del cannabis. Mientras tanto, se casó y se divorció dos veces antes de unirse a Jeannie Hawkins en el 2000.
Jack Herer sufrió una apoplejía y un leve ataque al corazón en Julio del 2000, en un festival del cáñamo cerca de Eugene, que resultó en una incapacitación parcial para moverse y dificultades para hablar; pero tras una larga recuperación, volvió a su programa de viajes y conferencias. En el 2004 declaró que su mejoría fue el resultado del uso diario de un aceite de cannabis altamente concentrado y de Amanita muscaria.
Jack sufrió otro ataque al corazón en el Festival Hempstalk de Portland, Oregón, el 12 de septiembre del 2009, y estuvo en condición crítica durante casi un mes. Tras varios días de un coma inducido a base de medicamentos, fue trasladado a otro complejo el 13 de octubre del 2009. Aún reaccionaba con sus ojos cuando alguien hablaba, pero ya no era capaz de comunicarse de ninguna forma.
Sobrevivió y su esposa Jeannie alquiló una casa en Eugene, donde cuidó de él hasta su muerte, a la edad de 70 años, el 15 de abril del 2010. Fue enterrado en el Eden Memorial Park Cemetery de Mission Hills, California. Descanse en paz.
Le sobreviven su esposa, seis hijos, un hermano y una hermana.
---

---